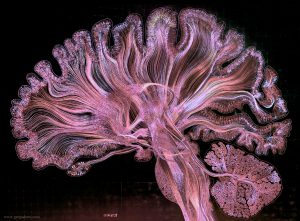 On April 3, 2019, we welcome Dr. Greg Dunn of Greg Dunn Design as he visits HSLS to kick off an exhibit of his artwork fusing neuroscience with painting and lithography. Art on the Brain is an exhibit of six prints that beautifully illustrate the inner workings of our mind and senses.
Please join us for these special events on April 3:

2–2:45 p.m. Opening reception at Falk Library Upper Floor exhibit area
3–4 p.m. Lecture in Scaife Hall Lecture Room 1
The opening reception for the exhibit will allow visitors to experience the artwork in this exhibit and interact with Dr. Dunn. Light refreshments will be served.
Following the reception, Dr. Dunn will deliver his lecture titled, "Self Reflected: Deeply Fusing Art and Science to Create the World's Most Complex Artistic Depiction of the Human Brain."