July 2015
» Next Entries
Data management plans (DMPs) are now a standard part of grant proposals for most funding agencies. A DMP should describe what you will do with your data during your research and once your project is completed. The plan may include details of the types of data you will collect, how you will preserve it, and how you will share the data with others. Read more
Strolling on the Pitt campus, have you ever encountered a blindfolded student using a white cane (and a helper), who is trying to "walk a mile in the shoes" of a person with vision impairment? This exercise, used by the School of Education Vision Studies program, is an example of experiential learning, which allows students to simulate a patient's medical condition. Why? To heighten empathy and boost sensitivity about patient experiences. Read more
Using Word, Excel, or PowerPoint from your desktop or laptop may be an everyday occurrence in your professional or scholarly work. Microsoft has now made it easier to integrate your mobile devices into your Office workflow by offering new capabilities through their mobile apps. Read more
MICROMEDEX contains reproductive risk information in its Reproductive Effects Micromedex® Solutions modules that include:
REPROTEXT® Reproductive Hazard Reference: presents in-depth reviews on the full-range of health effects of industrial chemicals commonly encountered in the workplace.
REPROTOX® Reproductive Hazard Information: covers the impact of the physical and chemical environment on human reproduction and development.
Shepard's Catalog of Teratogenic Agents: contains up-to-date information on teratogenic agents including chemicals, food additives, household products, environmental pollutants, pharmaceuticals, and viruses.
TERIS Teratogen Information System: provides current information on the teratogenic effects of drugs and environmental agents. Agent summaries derived from thorough literature reviews rate reproductive risk and explain data used to determine the rating. Retrieval of agent summaries can be done using domestic, international, generic, and proprietary names.
Reproductive Effects modules can be accessed from MICOMEDEX's intermediate search results (Option 1) Read more
In order to make the popular PubMed database more user friendly, several heavily used links have been renamed.
The "RSS" link used to create an RSS feed for a search is now "Create RSS." Read more
Reference Librarian Ester Saghafi retired at the end of June after 33 years of service. She began her career at Pitt in the library at Western Psychiatric Institute and Clinic (WPIC) as both a cataloger and reference librarian. After the WPIC library closed in 2008, she transferred to Falk Library of the Health Sciences where she was appointed reference librarian and psychiatry liaison. From 2009–2013, she served as program manager and instructor for the Certificate of Advanced Study in Health Sciences Librarianship (HealthCAS), a post-master's degree program. During her career at Pitt, Saghafi worked under three library directors: Lucile Stark, Pat Mickelson, and Barbara Epstein. Read more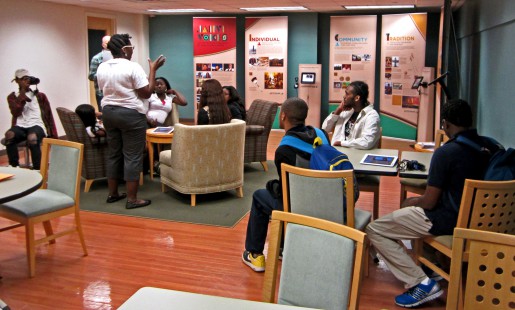 Falk Library hosted students from Propel Andrew Street High School in Munhall, PA, to visit the National Library of Medicine's Native Voices: Native Peoples' Concepts of Health and Illness exhibit, which closed on May 31, 2015. The visit to the exhibit capped off the students' six week exploration of topics such as public health, health disparities, and social determinants of health. The program outline was created as a collaboration between Timothy McMurray, science teacher, Christopher Taylor, social studies teacher, and Kimberly Moses, technology teacher, at Propel Andrew Street, along with Lydia Collins, consumer health coordinator at the National Network of Libraries of Medicine, Middle Atlantic Region. Read more
They're here! Yes, 110 high school students are participating in the University of Pittsburgh's Health Career Scholars Academy (UPHCSA). During their four week stay, the students will live in a University dorm, eat in the UPMC cafeteria, and learn about the field of medicine. They will attend lectures, shadow professionals, go on site visits, and work on team projects. The students are also required to conduct research and write a paper based on their investigation. To assist with this endeavor, the library provides training on how to find reliable, evidence-based information. Library staff provide instruction on PubMed, MedlinePlus, and PITTCat. Read more
» Next Entries