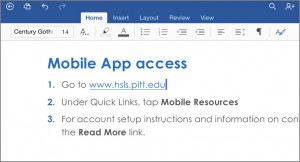 Using Word, Excel, or PowerPoint from your desktop or laptop may be an everyday occurrence in your professional or scholarly work. Microsoft has now made it easier to integrate your mobile devices into your Office workflow by offering new capabilities through their mobile apps.
Office for Android and iOS are available for free download, and now allow editing access through a free Microsoft account. Your Microsoft account gives you access to OneDrive, a cloud document service which allows you to access, edit, and save documents. A valid e-mail address is required to sign up for a free Microsoft account. Subscribers to Office 365, which allows better access and features across all platforms, can use their account to access the Office apps as well.
Most mobile devices have a separate app per product:
For Android smartphones, Microsoft Office Mobile includes all three products in one app.
The app interface looks very similar to the desktop versions, with modifications that are optimized for a smaller screen. A ribbon with tabs provides icons and menus for editing features. Some features that are available in the desktop version, such as SmartArt and references, are not available in the apps. Other features have limited options, such as font color, and others are available only to Office 365 subscribers, such as changing page orientation.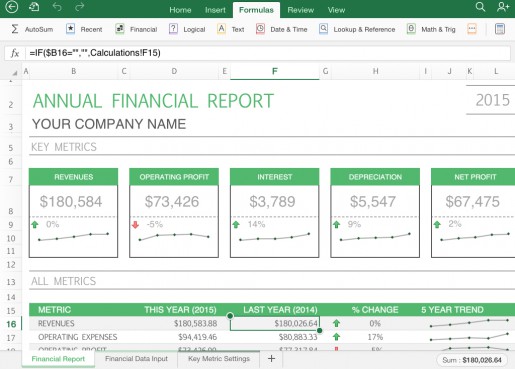 Documents can be opened from a number of places on your devices: from your e-mail, on a Web page, and from other apps. When syncing a new or edited document, you can save to your OneDrive account or Dropbox. Office 365 subscribers can also sync to iCloud. Any document can be sent via e-mail.
For assistance with Microsoft Office apps for mobile devices, contact Technology Services Librarian Julia Dahm.
~Julia Dahm