Falk Library has a soft spot in its institutional heart for its historical collections. While these collections receive modest funding for new acquisitions, they still get all the love and tender care they deserve. The carefully selected additions to the history of medicine collection keep this collection relevant and up-to-date to support scholars and medical historians in their research, and even the rare books and special collections continue to grow thanks to generous gifts. The historical materials, housed in climate controlled rooms, are well preserved for future users. Few medical libraries can boast of having a separate collection containing almost 20,000 books to support the research of medicine's past.
In June, Falk Library launched a redesigned Web site for the rare book and special collections. While some information from the previous Web site is simply reorganized and refreshed, there are two new sections: exhibits and subject collections. The new online exhibit, Medical and Scientific Medals at Falk Library, introduces a new trend by making some of the library's collections available to the general public virtually. Visit the exhibit and "meet" the people commemorated on the medals. You can even rotate the medals to view them from different angles. (Hint: Reload the page, if the rotation does not work). At the bottom of each medal's description page, you have the opportunity to like, share, or comment.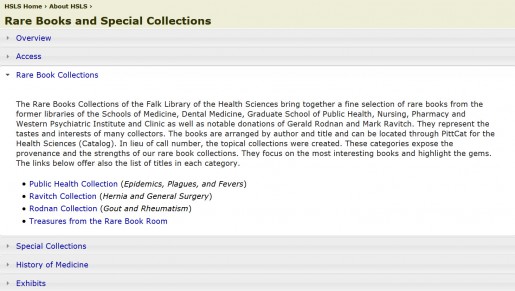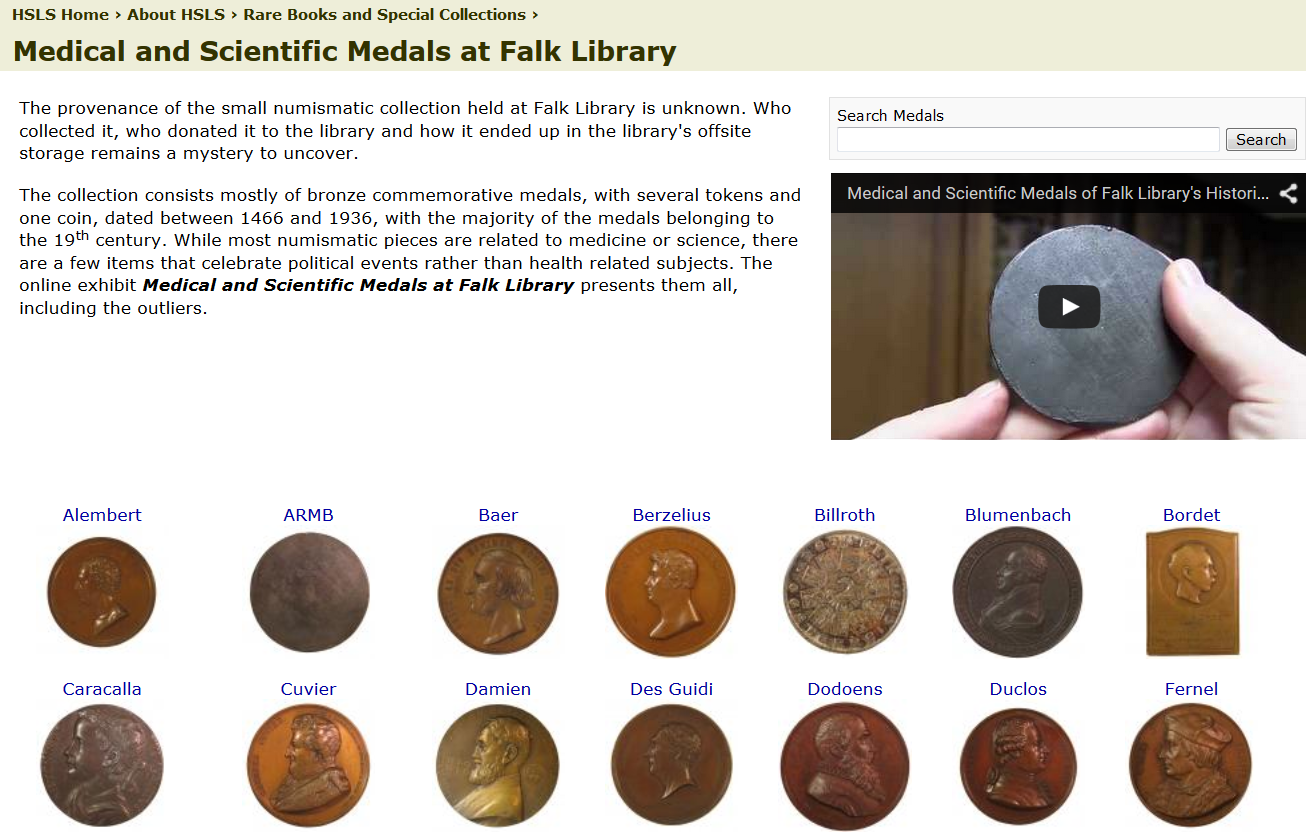 The Public Health Collection is the first in a series of subject clusters through which the rare book collections will be presented to library users. It combines information about the oldest materials in the group, highlights the gems, and exposes the subjects and topics that are well represented in the historical collections.
In addition to the new sections, the Web site will provide regular updates of already established services and features, such as medical humanities dissertations, featured books, history of medicine videos, treasures from the rare book room, and information about front lobby displays.
The Web site offers library users an alternate way of exploring our historical resources, in addition to searching PITTCat or visiting the library.
~Gosia Fort