March 2013
Beginning with the March issue, the HSLS Update will be published monthly and include fewer articles. This new format allows us to provide faster access to the latest HSLS news and happenings. Each issue will also include the monthly schedule of HSLS classes and latest staff news. Read more
Metadata: it is so much more than data about data! When a dataset is included in an online collection or database, the standardized structure and vocabulary of metadata makes it "findable" when users query the search interface. Metadata also supports interoperability between databases, providing the semantic power necessary for sharing datasets and enabling collaboration. Read more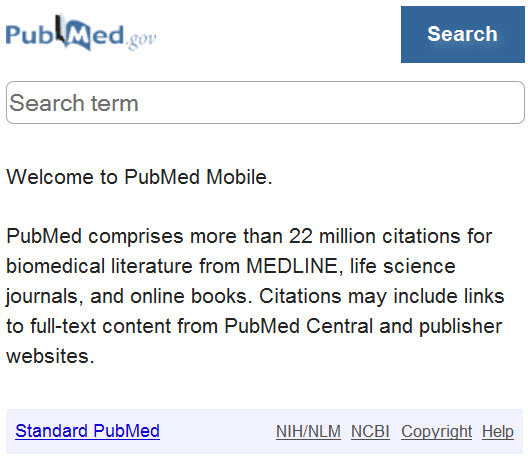 PubMed Mobile provides a simplified, mobile friendly Web interface for accessing the National Library of Medicine's Standard PubMed/MEDLINE database. The mobile version searches the same content as Standard PubMed and does not require an account or registration.
To search PubMed Mobile, simply enter your search terms in the search box and then click on Search. Read more
In this genomic era, many people are eager to learn about personal genomics and personalized medicine, yet feel overwhelmed by the sheer volume of information. These complex topics encompass not only scientific and medical concerns, but also ethical, legal, and social issues. To assist in the dissemination of awareness about these issues, the National Network of Libraries of Medicine is offering a four hour continuing education class, "ABCs of DNA: Unraveling the Mystery of Genetic Information for Consumers," Read more

I must be imagining things! I walk into the library and not only have the books and journals switched places, but now part of the library looks like a crime scene from CSI…have I bumped my head or have I been studying way too much? Read more
The HSLS Staff News section includes recent HSLS presentations, publications, staff changes, staff promotions, degrees earned, etc.
News
Linda Hartman, reference librarian, moderated a paper session on "Health Care for Children" at the fifteenth annual meeting of The Southern Association for the History of Medicine and Science, February 21–23, 2013, in Charleston, South Carolina.
HSLS offers classes on database searching, software applications such as Adobe Photoshop, bibliographic management, molecular biology and genetics, and library orientations. For more information, visit the online course descriptions. Read more