April 2012
» Next Entries
Need information for a grant application or a homework assignment? This painless one hour session offers a quick cure!
This one hour workshop is designed to quickly introduce or update you about searching in the PubMed database.  Offered once a week, April–June, the topics include: building an effective search strategy; efficiently locating full-text articles; and setting up your personal MyNCBI account. Read more
SHERPA/RoMEO is a regularly updated database of peer-reviewed journal publishers' agreements from the Centre for Research Communications at the University of Nottingham in the UK. Currently, there are over 18,000 journals listed from 1,071 publishers in 60 nations. SHERPA/RoMEO is an important tool for authors seeking to disseminate their work more widely. Use it to find publishers or journals that permit deposit of a final version of a paper in a repository, such as PubMed Central or in an institutional repository, such as Pitt's D-Scholarship@Pitt. Once an article is deposited in a repository, scholars can easily find the full-text version through a Google search. Most importantly, it behooves authors to compare and select the most author-friendly and dissemination-friendly publisher agreement before submitting a paper for publication. SHERPA/RoMEO is the tool of choice for that task. Read more
Clinical trials play a vital role in developing better ways to prevent and treat diseases. Most researchers and health care professionals already understand the process, but members of the general public may be unfamiliar with the important role that clinical trials play in advancing health care. NIH Clinical Research Trials and You is a new Web site created by the National Institutes of Health that provides easy-to-understand information about clinical research and clinical trials, and the benefits of participation. Read more

HSLS is pleased to introduce expanded access to CLC Main Workbench, an integrated research tool that enables users to perform advanced DNA, RNA, and protein sequence analyses, combined with gene expression analysis, data management, and graphical viewing and output options.
Product features include: Read more
HSLS librarian, Leslie Czechowski, has announced her retirement in order to serve in the Peace Corps. She and her husband, Jan, had considered volunteering for almost thirty years. In fall 2010, they began the long application process and submitted their completed applications in January 2011. The wait began. They recently received their acceptance and entered into a new phase of the application process—the medical history. Since Jan and Leslie are in their early 60s and have many years of "health history," they spent a great deal of time answering questionnaires, visiting doctors for follow-ups, and assuring Peace Corps medical staff that certain issues were minor. Read more
HSLS hosted the National Library of Medicine (NLM) traveling exhibit "Against the Odds: Making a Difference in Global Health" from January 16 to February 25. During that time, a number of visitors from the schools of the health sciences and beyond took advantage of the opportunity to view the exhibit, attend a lecture on global health and war, and attend associated lectures and film screenings sponsored by other groups at the University. Read more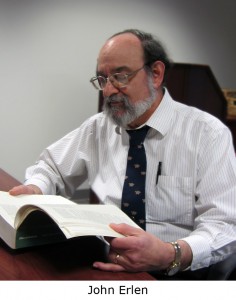 The Carroll F. Reynolds Medical History Society announced the establishment of the Erlen Lectureship, to recognize the many contributions of HSLS History of Medicine Librarian Jonathon (John) Erlen, PhD, to the Society. The Erlen Lectureship will be presented annually in February as one of the Society's featured activities.
Through the years, John has arranged a long series of stimulating and scholarly speakers for the Society's public lecture series, while overseeing logistics and Read more
HSLS provides over 2,000 titles in our e-book collection. To encourage e-book usage, quick response (QR) codes have been posted throughout Falk Library's print book collection. Read more
» Next Entries