December 2011
» Next Entries
Over Pitt's winter break, Falk Library will have modified hours:
Friday, December 23 through Monday, January 2: CLOSED
Tuesday, January 3: 8:30 a.m.–5 p.m.
Wednesday, January 4: Resume regular hours
The Ask A Librarian service will be monitored over the break.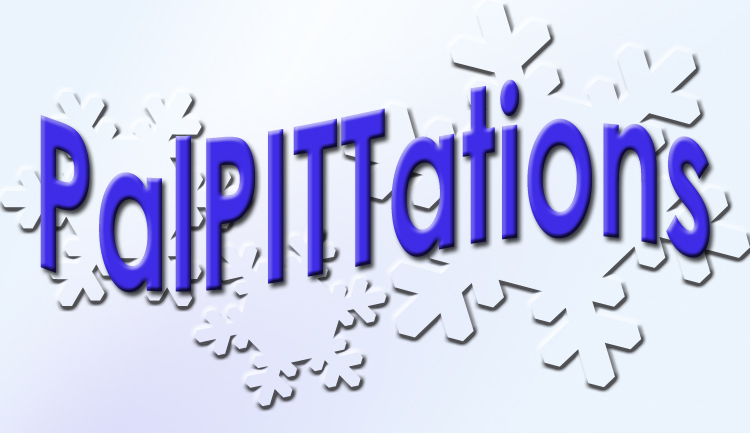 Get into the holiday spirit by joining us for a holiday concert performed by the PalPITTations, an a capella vocal group of health sciences students from the University of Pittsburgh. The PalPITTations will perform on Friday, December 16, at noon, on the second floor of Falk Library. Light refreshments will be served. All are welcome for this free concert. Read more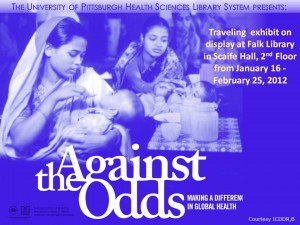 Against the Odds: Making a Difference in Global Health, a traveling exhibit produced by the National Library of Medicine, is coming to Falk Library January 16, 2012, through February 25, 2012. The exhibit highlights examples of communities, countries, and international organizations successfully preventing disease, improving access to healthy food, promoting community health, and addressing the effects of war and violence on health. Read more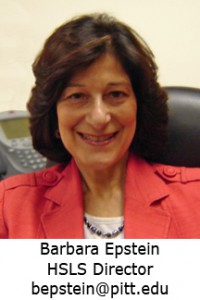 As traditional in this December issue, listed below are the donors who supported HSLS with monetary gifts and in-kind contributions in the past year (December 2010–November 2011). These thoughtful people help our libraries provide essential resources to enhance the quality of health care in western Pennsylvania and beyond. We remain extremely grateful for their generosity.
Best wishes to all for a happy holiday season, and a successful and productive new year! Read more
Publication choices create a cascade of consequences affecting not only authors, but also colleagues, research institutions, and scientific disciplines. Copyright can be managed to the best advantage of all stakeholders by using Open Access (OA) methods and tools to increase citation counts, permit classroom use and global availability, and use of current health research. By definition, OA literature is digital, online, free of charge, and free of most copyright and licensing restrictions Read more
Since its inception 17 years ago, the HSLS Adobe Photoshop for Beginners Workshop has emphasized the basics of image editing using this powerful software package. Coming in the spring of 2012, this workshop will be updated to address the variety of ways digital images are processed by today's health sciences community. Read more
The National Library of Medicine (NLM) and the National Center for Biotechnology Information recently released PubMed Health, a Web site that specializes in presenting clinical effectiveness research. Clinical effectiveness research is designed to inform clinicians and consumers what treatments and prevention methods have been proven to work and what remains unknown. Read more
Do you need to do any of the following, but don't know where to start: Predict transcription factor binding sites? Identify protein interaction partners? Browse a region of the human genome? Create a multiple sequence alignment plot? No need to worry, we're here to assist with a brand new resource that's designed to help you learn at your convenience, whether you're in the lab, at home, or out and about. Read more
» Next Entries