In the June 2011 HSLS Update, it was announced that HSLS was awarded a five-year contract from the National Library of Medicine (NLM) to serve as the Regional Medical Library (RML) for the National Network of Libraries of Medicine, Middle Atlantic Region (NN/LM-MAR). We are pleased to welcome four new NN/LM MAR staff members: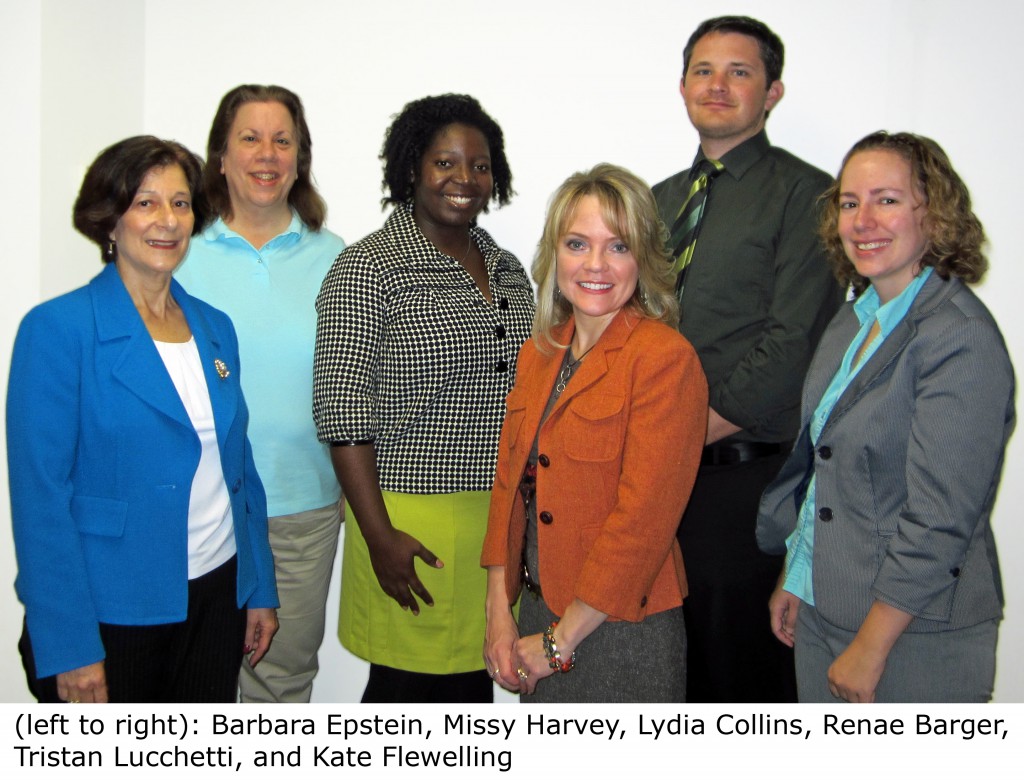 Tristan Lucchetti, administrator, will manage the budget and monitor and track expenditures for subcontracts and awards.
Lucchetti received his MBA from the University of Pittsburgh, with a focus on finance.  For the past four years, he worked at the University of Pittsburgh's Clinical and Translational Science Institute and has experience in interpreting and applying sponsoring agency and University policies.  He also has experience in managing the operational and fiscal aspects of a busy department.
Melissa (Missy) Harvey, Technology and Communication coordinator, will identify and evaluate technologies for MAR programs and develop a communication strategy to ensure that Network members and others in the region are informed about MAR activities, award opportunities and other initiatives.
Harvey spent 16 years as the Computer Science librarian at Carnegie Mellon University.  She has significant teaching experience, serving as an adjunct professor for the School of Information Sciences at the University of Pittsburgh, as well as the iSchool at Drexel University. Harvey also served as Head of Falk Library's Microcomputer and Media Center in the late 1980's.
Kate Flewelling, Outreach coordinator, will develop outreach programs to health professionals, with emphasis on services to unaffiliated health professionals, minority health professionals, public health workers, and mental health professionals.
Flewelling received her MLIS from the University of Wisconsin-Milwaukee in 2007 and was a National Library of Medicine Associate Fellow from 2007-2009. For the second year of her fellowship, Kate was at Inova Fairfax Hospital, a large teaching hospital in Northern Virginia. Most recently, Kate was coordinator of Instruction and reference librarian at Upstate Medical University, in Syracuse, New York.
Lydia Collins, Consumer Health coordinator, will have lead responsibility for developing, coordinating, and implementing consumer health information programs and providing outreach to public libraries and consumer groups, including soldiers, veterans and their families, senior citizens, caregivers, K-12 schools, and community-based and faith-based organizations.
Collins has worked as a health sciences librarian for the past six years. Most recently, she was a librarian at the College of Health Sciences, University of Delaware.  Prior to moving to the East Coast, she was librarian at the School of Nursing and Department of Biological Sciences at San José State University.  Lydia began her library career as a solo librarian at Doctors Medical Center, in Modesto, California, providing library services to a rural population.
The entire staff has hit the ground running! In the past few months, the NN/LM MAR team has:
Offered five classes to nearly 100 librarians in Delaware, Pennsylvania, New York and New Jersey
Attended and reported on the tribal blessings of the NLM healing totem; one of the artistic, educational, and inspirational elements in NLM's new exhibit, "Native Voices: Native Peoples' Concepts of Health and Illness."
Represented the National Library of Medicine at two national meetings: American College of Clinical Pharmacists and American Society of Nephrology
Exhibited and promoted NLM and NN/LM MAR resources and services at three regional Medical Library Association chapter events; two state library association meetings; as well as the annual conference for New York City public school librarians
Visited numerous academic, hospital and public libraries, as well as community organizations within the Middle Atlantic Region.
We are currently recruiting for a Network and Advocacy Coordinator. This person will plan Network member programs to support advocacy and changing roles for the information professional; coordinate outreach activities to hospital librarians; and manage the Region's membership and resource sharing program.
Stay tuned for future updates and announcements.
~ Renae Barger