June 2012
» Next Entries
In early 2011, the Institute of Medicine released Standards for Systematic Reviews. Standard 3.1 that calls for systematic reviewers to work with a librarian or other information professional when conducting literature searches for systematic reviews. Additionally, the standard advises that a librarian or other information professional be involved in the peer review of the search strategies. Read more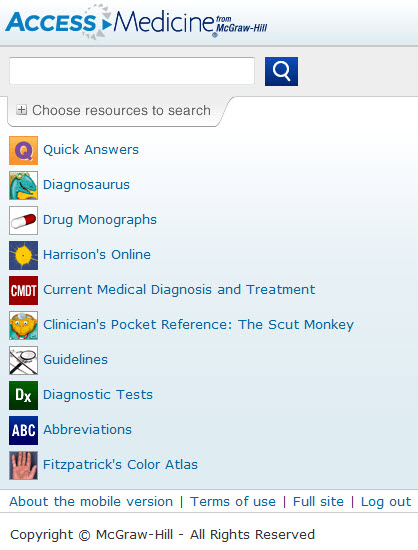 AccessMedicine's mobile version can keep you connected and productive no matter where you are, day or night. The mobile version is easy to use and navigation is simple. It's available to Pitt and UPMC users through the HSLS subscription to the full AccessMedicine site.
Contents
AccessMedicine mobile contains a scaled-down version of the full AccessMedicine site and features essential resources, such as: Read more
 Harrison's Online
CURRENT Medical Diagnosis and Treatment 2011
Picture Galleries from Fitzpatrick's Color Atlas and Synopsis of Clinical Dermatology, 6th edition
Clinician's Pocket Reference: The Scut Monkey, 11th edition
CURRENT Practice Guidelines in Primary Care 2009
Diagnostic Tests from Pocket Guide to Diagnostic Tests, 5th edition
Quick Answers
Diagnosaurus
Drug Monographs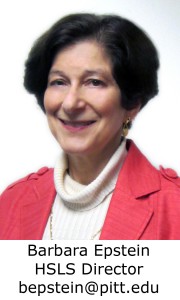 The month of May is a very busy one for medical librarians as we gather at the Annual Meeting of the Medical Library Association, our main professional organization. This year the meeting was in Seattle, a beautiful city with many similarities to Pittsburgh: it's green and hilly, with a vibrant downtown and a major university. They drink lots more coffee than we do, though.
Several HSLS librarians were able to attend, and taught workshops and presented papers and posters (described elsewhere in this issue). The meeting offers valuable opportunities to meet colleagues from across the country and around the world to make connections and share ideas about projects to work on at home. Read more
Are you interested learning more about open access or scholarly publishing? The new HSLS Scholarly Communication LibGuide is now available, providing a wide range of information and guidance on academic publishing issues for the University of Pittsburgh's health sciences community. The guide incorporates the previous NIH Public Access Policy Web site, and has been expanded to cover the basics of open access, author rights, publishing and journal selection tips, and the evolving landscape of impact metrics. Read more
HSLS has implemented a new tool that allows you to access the full text of articles with one click. That tool, called a link solver, is available in HSLS subscription databases, such as PubMed and Ovid, and provides direct access from an article's citation to the full text of that article. Read more

The National Human Genome Research Institute (NHGRI) is one of 27 centers and institutes comprising the National Institutes of Health (NIH). Initially established in 1989 as the National Center for Human Genome Research, the NHGRI is evolving into a multidivisional organization that includes Genome Sciences, Genomic Medicine, and Genomics and Society, among others. Read more
William Harvey (1578-1657), physician to the English kings James I and Charles I, is best known for his work, Exercitatio Anatomica de Motu Cordis et Sanguinis, published in Frankfurt in 1628. This book is considered to be one of the most important texts in the history of medicine. Physiologists before Harvey knew that blood is not a stationary fluid, but it was Harvey who clearly demonstrated for the first time that blood is pumped by the heart and moves in circular fashion. Read more
Are you a PubMed searcher who uses EndNote, RefWorks, or another citation manager? Saving your PubMed search results just got easier.
Citation manager has been added to the list of possible destinations for your selected results. So now you can format and save your references to a file with one click. Read more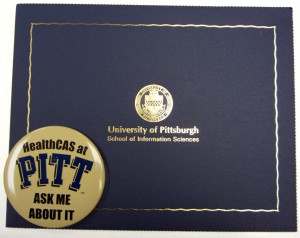 The second cohort of 11 students in the Certificate of Advanced Study in Health Sciences Librarianship (HealthCAS) program received graduation certificates at a Capstone event held on May 19, 2012. The event was held at the University of Washington Health Sciences Library in conjunction with the Annual Meeting of the Medical Library Association (MLA) in Seattle. In addition to completing 12 credits of online coursework, each student conducted an applied research project over the course of the yearlong program, and submitted the results as a poster presentation at the MLA meeting. Ten poster submissions were accepted and presented at this meeting. Read more
April was a busy month for the National Network of Libraries of Medicine, Middle Atlantic Region (NN/LM MAR) as we hosted our first in-person advisory committee meetings. As a new regional medical library, the HSLS has created an advisory structure that includes health sciences and public librarians, unaffiliated health professionals, and representatives from community and health consumer groups, representing the diversity of Network members within our four-state region of Delaware, New Jersey, New York, and Pennsylvania. Read more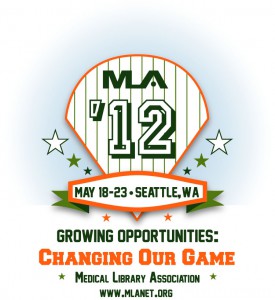 HSLS librarians were active participants in the Medical Library Association's Annual Meeting held in Seattle, Wash., from May 18-23, 2012.
Contributed Paper
Carrie Iwema, information specialist in Molecular Biology, presented "Covering the Bases: Running a Library-Based Bioinformatics Service at a Health Sciences University." Co-author was Ansuman Chattopadhyay, head, Molecular Biology Information Service. Read more
» Next Entries