HSLS has implemented a new tool that allows you to access the full text of articles with one click. That tool, called a link solver, is available in HSLS subscription databases, such as PubMed and Ovid, and provides direct access from an article's citation to the full text of that article.
To see the tool in action, Pitt and UPMC users can scroll through search results and look for the dark blue 

button. Depending on the database, you may have to click on the article title before seeing the button.
Clicking on the

button will lead you directly to the full-text view of an article if HSLS subscribes to the e-journal.
For various reasons, some articles have not been set up for full-text access. In these cases, clicking on the

button will lead you to the screen below, indicating "It was not possible to link directly to the full text of this item. Please select from the options below:"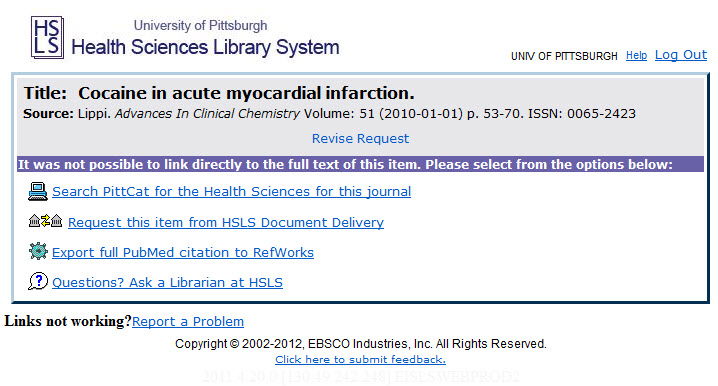 Legend:
Search PITTCat for the Health Sciences for this journal
PITTCat is the online catalog of the University of Pittsburgh and is the most comprehensive source for locating e-journal articles available at Pitt.
Request this item from HSLS Document Delivery
If HSLS does not have an article in print or online, a copy can be requested through this service for a small fee. This service is available only to those with University of Pittsburgh computer accounts.
Export full PubMed citation to RefWorks
Easily move this PubMed citation into your RefWorks citation manager
Questions? Ask a Librarian at HSLS
Not sure what to do next? Use this form to submit questions to HSLS reference librarians. Expect a response usually within 24 hours.
Links not working? Report a Problem
Let us know if you have trouble accessing this resource, so we can quickly troubleshoot the problem.
~ Julia Jankovic