Are you interested learning more about open access or scholarly publishing? The new HSLS Scholarly Communication LibGuide is now available, providing a wide range of information and guidance on academic publishing issues for the University of Pittsburgh's health sciences community. The guide incorporates the previous NIH Public Access Policy Web site, and has been expanded to cover the basics of open access, author rights, publishing and journal selection tips, and the evolving landscape of impact metrics.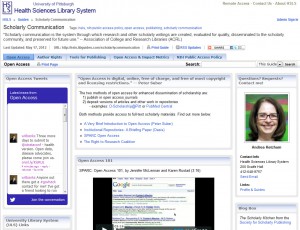 On the front page, you'll find several brief modules that introduce the open access concept, including a video from the Scholarly Publishing and Academic Resources Coalition describing the academic publication process and the benefits of open access. Other media of interest include live feeds to The Scholarly Kitchen blog and Twitter postings from open access experts that support current awareness in this rapidly developing area.
Gain a better understanding of authors' rights and responsibilities by viewing informative videos on copyright, and then refer to related Web sites and other information resources.
Considering where to publish? Directories and other tools found under "Tools for Publishing" help authors research journals, publisher agreements, author fees, and funder requirements to choose the best journal to achieve the widest possible dissemination of your research.
The open access model of publishing has invited the rethinking of methods used for measuring scholarly impact. Alternative metrics or "altmetrics" incorporate social media and online usage statistics beyond the journal literature to assess the impact of individual scholarly works rather than the journals in which they are published. Learn more about altmetrics by watching a short introductory video to the PLoS Altmetrics Project. The guide also provides access to a variety of traditional journal metrics and altmetrics tools, including SCImago Journal Rank, F1000 Journal Rankings, ResearchID, and Total Impact.
Visit the Scholarly Communication LibGuide as a reference for scholarly publishing information. You can arrange for consultations or department presentations by contacting Andrea Ketchum at ketchum@pitt.edu or 412-648-9757.
~ Andrea Ketchum