April 2015
» Next Entries
The University of Pittsburgh School of Medicine has a partnership with the Nazarbayev University (NU) in Astana, Kazakhstan to advise on the establishment of a new medical school.
The Health Sciences Library System (HSLS) is now included in this project to provide consultation to NU librarians about establishing library service to the new medical school. This will include advice on collection development, space, reference services, and teaching. The first class of medical students will start in August 2015. Read more
In a recent article, Steven J. Bell, associate university librarian at Temple University, explores the concept of UX—user experience—in the library.1
UX addresses the purposeful design of a distinctive, problem-free, and fulfilling experience. Before envisioning the future, Bell starts in 1888, when George Eastman's Kodak camera brought photography to the masses by simplifying elaborate equipment into a push-button box. In the digital age, Don Norman's The Design of Everyday Things (1988) articulated the concept of user-centered design. As Internet-based businesses emerged, Pine and Gilmore argued in The Experience Economy (1999) that competition goes beyond price and features. Krug's Don't Make Me Think (2000) emphasized simple, intuitive Web design as a must for user engagement, and usability testing of Web sites became a common quality control procedure. A redesigned HSLS Web site placed a large search box at the center of the home page for user convenience. Read more
In the midst of the Great Depression, a nationwide jobs program known as the Works Progress Administration (WPA) was established to put millions of Americans back to work between 1935 and 1943. In addition to hiring workers to build roads, dams and bridges, the WPA set unemployed artists to work creating murals, paintings, sculptures and graphic works of art. From the WPA's poster division, more than 2 million silkscreen, lithograph, and woodcut posters were produced and distributed nationwide. Both functional and decorative, the posters expressed a wide range of self-improvement messages designed to engage viewers through a mix of bold graphics and limited text. Read more
Register now for the upcoming Openness & Reproducibility in Research Workshop on Thursday, April, 23, from noon-3 p.m., at the Mellon Institute Social Room, 4550 5th Avenue.
During this hands-on workshop, Courtney Soderberg, statistical and methodological consultant from COS (Center for Open Science), will present strategies to increase the validity of statistical results; ways to increase research transparency and reproducibility; and how to use open source tools. Read more
When preparing a presentation, most of us automatically use the familiar Microsoft PowerPoint—it has a long history of being the go-to presentation software. Alternative presentation software programs such as Prezi has emerged in recent years. Prezi can heighten viewer interest as the presenter zooms from text to images on the screen.
So which software should you choose—PowerPoint or Prezi? Both can be used to create well-made presentations, but sometimes one shines over the other. Read more
Two years ago, the White House Office of Science and Technology Policy (OSTP) memorandum was issued directing federal agencies with over $100 million in research and development expenditures to make the results of federally funded research publicly available. This directive is intended to maximize free public access while protecting privacy and confidentiality, and accommodate commercial interests. It differs from previous public access policies in that it covers "sharing research data" as well as the resulting literature. Some of the key features of the OSTP public access plans include: Read more
Hieronymus Fabricius ab Aquapendente (1537-1619) was an Italian surgeon and anatomist and one of the founders of modern embryology. He spent most of his life in Padua, eventually becoming chair of surgery and anatomy. During his long academic career he attracted students from all over Europe. Fabricius changed the teaching of anatomy by designing and using the first theater for public anatomical dissections. He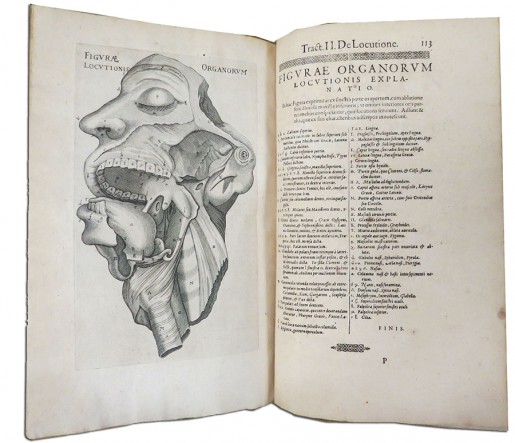 laid the foundation for modern anatomical illustration by focusing strictly on technical issues, and abandoned the backgrounds and artistic impressions present in his predecessors' works. Fabricius also contributed to the development of comparative anatomy and surgery. He was the first to describe venous valves. Though he failed to see that they were proof of the circular motion of blood, his work may have inspired William Harvey's De Motu Cordis. Read more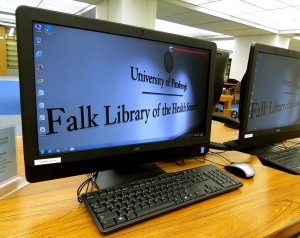 The public area computers on the main floor of Falk Library were recently updated. The new all-in-one computers with 23 inch screens integrate the computer system's internal components into the monitor so the entire computer is enclosed in one unit. The computers are powered by Intel Core i5™ processors that deliver high-speed performance.
» Next Entries