February 2012
» Next Entries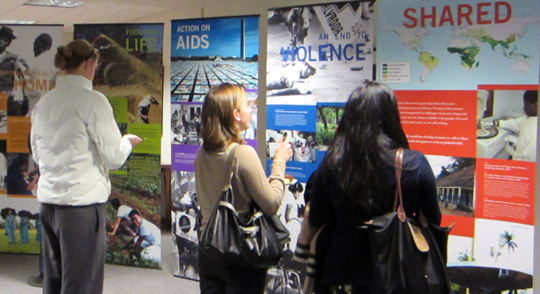 On January 19, 2012, HSLS hosted a lecture by Samuel Watson on "Global Health in a Wartime Setting—Iraq," followed by a panel discussion with Watson, Taylor Seybolt, PhD, and Elliott Larson, MD. This event was held in conjunction with the National Library of Medicine's traveling exhibit, "Against the Odds: Making a Difference in Global Health." The exhibition is available for public viewing in Falk Library until February 25, 2012, during library hours. Read more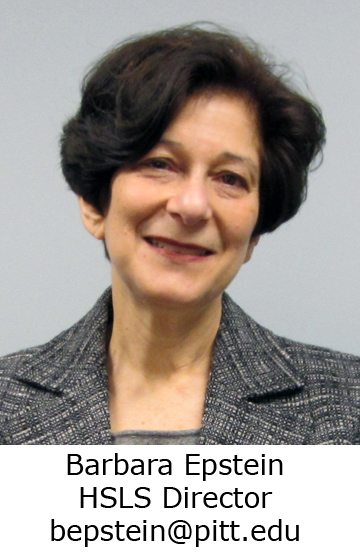 In late January, we distributed a "special edition" of the Update to our UPMC and University of Pittsburgh subscribers, in which we outlined a significant change in the scope of HSLS services available to the UPMC community. While UPMC staff continue to have uninterrupted access to HSLS' wide range of valued clinical e-resources, services provided by HSLS librarians and staff are no longer offered to UPMC library users. These services include circulation of print books and laptops, access to Falk Library's computers, admission to classes in Falk Library, interlibrary loan and document delivery, and information services. HSLS librarians will provide assistance with access problems related to electronic resources, but requests for user instruction and reference consultation are the responsibility of UPMC hospital librarians. Read more
HSLS recently expanded full-text access to all e-journals published by the American Medical Association (AMA). HSLS has subscribed to the electronic version of these journals for many years, but previously only provided access dating back to 1998. Access to each AMA journal is now available from volume 1, issue 1, through the present. Details of the expanded collection are below: Read more
RefWorks, the Web-based software package for managing citations and creating bibliographies, has recently been updated. The new RefWorks 2.0 version has a streamlined look with fewer menus and intuitive navigation buttons. Features that make RefWorks so useful, such as the ability to share citations with your colleagues, have been brought to the front page, enabling users to complete tasks quickly. Read more
You see them in magazines, bus stops, and now at Falk Library, but do you know what those unusual looking black and white graphics are? Read more
Building a library collection is a complicated process of balancing the needs of a diverse user population, a finite budget, and subscription charges that continue to escalate, even in this difficult economy. In our case, there is little room to cut costs, as our lesser-used resources have already been canceled in the past few years. Faced with publisher increases in excess of the general inflation rate, however, we have no choice but to continue to trim our collection. This process is made more difficult because many publisher packages do not permit us to cancel a large number of titles. Read more
Can formal training in art and visual thinking strategies help to improve: Read more
 Visual diagnostic skills of medical students?
Clinical observation skills of primary care physicians and nurses?
Communication among members of inter-professional health teams?
The third part of this series on the use of photography in medical books continues to explore outstanding examples from the Falk Library historical collection. This issue features an exquisite atlas of stereoscopic images for studying hernia, titled Stereoskopbilder zur Lehre von den Hernien by Eugen Enderlen and Emil Gasser, published in 1906. Read more
With the addition of Michelle Burda, Network and Advocacy Coordinator, we are pleased to announce the MAR is now fully staffed.
Michelle will plan Network member programs, with an emphasis on advocacy and changing roles for the information professional; coordinate outreach activities to hospital librarians; and manage the Region's membership and DOCLINE program. Read more
The HSLS Staff News section includes recent HSLS presentations, publications, staff changes, staff promotions, degrees earned, etc.
News
 Michele Klein-Fedyshin, reference librarian, was selected as a candidate for the MLA Nominating Committee by the Nursing & Allied Health Resources Section of the Medical Library Association.
Publications Read more
» Next Entries