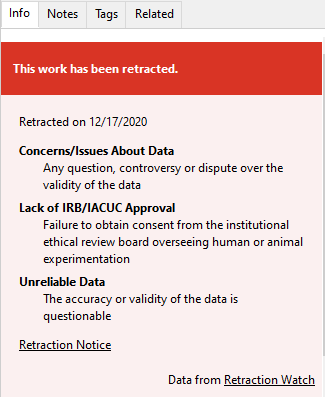 While retractions only account for approximately 0.04% of the published literature, unknowingly citing retracted articles in your own work can lead to serious problems. While you might know about using the Retraction Watch database to check for retractions, did you also know that your citation manager can be a tool for alerting you to retracted literature?
Zotero and Retraction Watch
Zotero's integration with Retraction Watch (RW) means that you will get an alert if you add an article to your library that has been retracted or if an article already in your library is retracted at a later date.
However, this functionality is only as good and up to date as RW's database. Sometimes items are not added to the database (and thus do not trigger Zotero's alerts) until weeks after they have been retracted. Additionally, items that have been marked as having "cause for concern" and not officially retracted do not trigger any alerts in Zotero.
EndNote
EndNote is not integrated with Retraction Watch and does not have built-in capabilities for monitoring retractions. However, you can use EndNote in conjunction with Zotero to complete a quick retraction check by importing your EndNote references into Zotero. To do this, download and install the Zotero software onto your computer, and then download references into EndNote as you normally do. When you're ready to check for retractions, export your EndNote references as an RIS file and then import that file into Zotero. If you have any retracted references in your file, Zotero will immediately alert you.
Alternatively, if you are a regular EndNote user who is comfortable with the software, you can create a customized PubMed filter that will allow you to import additional citation information from the PubMed database. Depending on your customizations, the filter can capture information that is not normally imported into your EndNote library, such as retractions or corrections. Please note, this only works if PubMed has marked articles as retracted (or corrected) at the time you import them—you will not be alerted if articles are retracted in the future. Step-by-step instructions for creating this filter can be found on the EndNote guide.
Not sure where to start with citation managers? Attend one of our introductory classes:
Learn more about retracted articles in Zotero and EndNote on the HSLS citation management guide.
If you have any questions, please contact us via Ask a Librarian.
~Rebekah Miller and Rachel Suppok