HSLS MolBio is pleased to introduce two new additions to our molecular biology information service: one is a staff member, and the other is an enhanced array of hands-on workshops!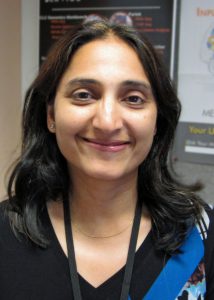 As we reported in April, HSLS MolBio is collaborating with the Genomics Analysis Core of the Department of Biomedical Informatics (DBMI-GAC) to provide comprehensive assistance with the use of CLC Genomics Workbench for Next Gen Sequencing (NGS) data analysis. The bioinformatics analyst providing this support is Sri Chaparala, who splits her time between HSLS and DBMI-GAC. While at HSLS, Sri is helping to develop and conduct bioinformatics workshops and create online software training materials in support of the growing portfolio of software titles provided by HSLS MolBio. Sri earned her Master's in Applied Biotechnology from Oregon State University in 2007 and completed the Biomedical Informatics Training Certificate Program at the University of Pittsburgh in 2016. Prior to Pittsburgh, she held Research Assistant positions at Oregon State University and the University of Virginia. Please join us in welcoming Sri to the HSLS MolBio family, and feel free to contact her with any questions regarding CLC Genomics Workbench/NGS data analysis.
The addition of Sri has enabled HSLS MolBio to introduce more classes to our roster of hands-on workshops. New for fall 2017 are:
Our entire list of workshops is available online. To see individual class details and to register, go to the HSLS calendar. If you have suggestions for possible future workshops, please let us know!
~Carrie Iwema