The HSLS Staff News section includes recent HSLS presentations, publications, staff changes, staff promotions, degrees earned, etc.
News
Michele Klein-Fedyshin, reference librarian, has been appointed liaison to WPIC and is serving on the WPIC Nursing Evidence-Based Practice and Research Council.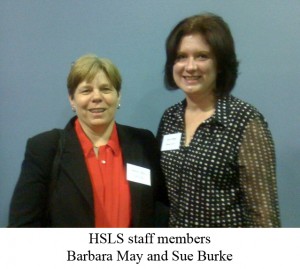 Congratulations to these HSLS staff members who recently received University of Pittsburgh staff recognition awards for 20 years of service: Barbara May and Sue Burke.



Publications
Charles Wessel, head of hospital services published "Evaluation of a self-paced learning module to teach responsible literature searching for research" in the Journal of the Medical Library Association, 98(1):82-85, 2010 with co-authors Nancy Tannery, associate director for user services and Barbara Epstein, HSLS director.