October 2013
HSLS is pleased to announce the availability of the UpToDate Mobile App. The app is available to Pitt and UPMC users through the HSLS subscription to the full UpToDate site. UpToDate provides evidence-based, peer-reviewed medical information. The continuously updated content is written by more than 5,100 authors, all of whom are practicing physicians and specialists within the subject area they author. Read more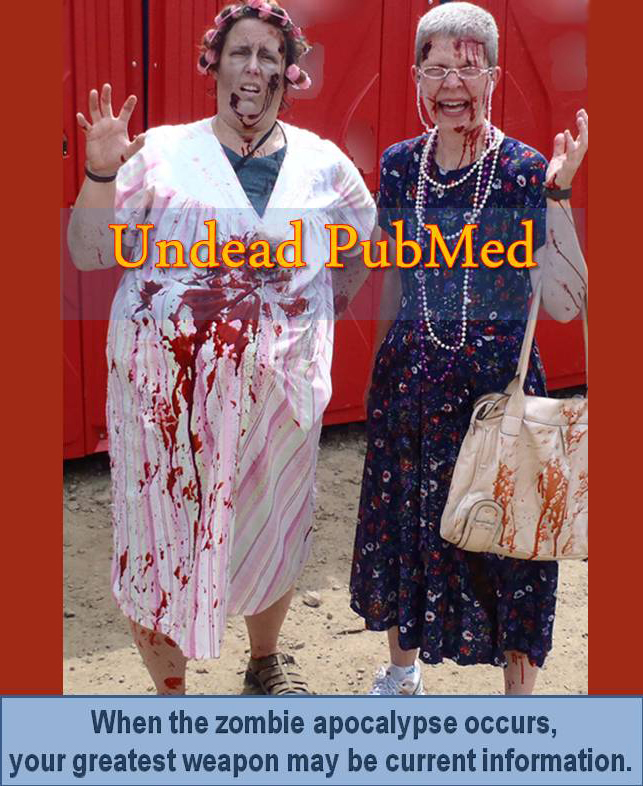 During this Halloween season—when the undead walk—your greatest weapon just might be current biomedical information. So, in the spirit of the season, HSLS is offering a ghoulish twist on our basic, weekly, Painless PubMed search class. In one horror-filled hour, Undead PubMed will use creepy examples to introduce or update you on: accessing PubMed from a safe location, building an effective search strategy, retrieving full-text articles if the library has been overrun by zombies, using a MyNCBI account to save your searches, and (maybe) save the world. Read more
Pitt users now have access to BrowZine, a new tablet application that allows you to browse, read, and monitor numerous scholarly journals. All in a format optimized for iPad, Android, and Amazon tablets. You can search for Open Access and available Pitt journal subscriptions in BrowZine by category or individual title. Select your favorite journals and then add them to your Bookshelf where they'll be available for quick and easy access.
Full-text articles of interest can be downloaded to a "Saved Articles" area and read later without an Internet connection. Articles can also be exported to other apps such as GoodReader and Notability. To help keep all of your information together in one place, you can save to Zotero, Mendeley, Dropbox, and other services. Read more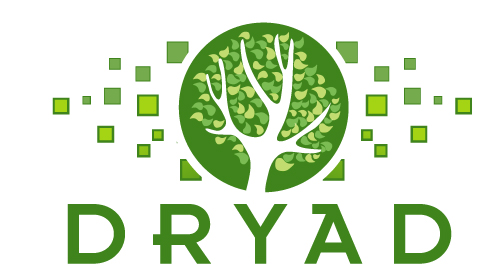 Journal publisher Elsevier and the Dryad Digital Repository recently announced a new cooperative effort providing two-way links between their content. This reciprocal linking between Dryad and Elsevier's ScienceDirect platform is currently available for 28 journals, including: Read more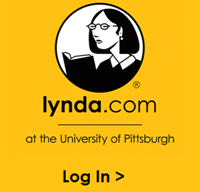 If you need to learn how to design a Web site, create a Google app, or use a Microsoft Office or Adobe product, now you can learn anytime, anywhere with Lynda.com. Lynda.com is a University licensed, online computer and technology training provider offering a broad range of courses including: Access, PowerPoint, Drupal, C++, and many more. The video-based courses are self-paced, up to several hours long, and divided into 5-15 minute lessons. Each course is taught by a subject expert. You can select from over 1,200 courses. Read more
Horace Wells (1815-1848) was an American dentist who pioneered the use of nitrous oxide in tooth extractions. He was posthumously honored as the discoverer of modern anesthesia by the American Dental Association in 1864 and by the American Medical Association in 1870. Read more
The HSLS Staff News section includes recent HSLS presentations, publications, staff changes, staff promotions, degrees earned, etc.
Publications
Rebecca Abromitis, reference librarian, along with co-authors Mei Song1, Kaihong Liu1, and Titus L. Schleyer1, published "Reusing Electronic Patient Data for Dental Clinical Research: a Review of Current Status" in Journal of Dentistry, 18 April 2013. [Epub ahead of print] Read more
HSLS offers classes on database searching, software applications such as Adobe Photoshop, bibliographic management, molecular biology and genetics, and library orientations. For more information, visit the online course descriptions. Read more