May 2013
Nobody attends a presentation to read bullet points! Yet some of us are guilty of creating text-heavy, bullet-laden slides resulting in the dreaded "Death by PowerPoint." Cognitive-load research indicates we're unable to simultaneously read and listen well, so the audience tends to read ahead while your important verbal message is left behind. What's the solution? Tell a story. How? PechaKucha (the Japanese word for chit chat). What's that? A dynamic presentation method limited to twenty slides, each shown for twenty seconds. Slides advance automatically as you tell your "story" in about seven minutes. No bullet points and no text—only carefully selected images that transition as you share your enthusiasm and knowledge about a topic. Read more
Henry Stewart Talks: Biomedical & Life Sciences Collection

HSLS provides Pitt users with access to the Henry Stewart Talks: Biomedical & Life Sciences Collection of online, audiovisual talks given by leading experts from around the world. More than 40 new talks—on topics including innate immunity, glycobiology, cytokines, and calcium signaling, among others—were recently added to this collection. Nearly 1,600 talks across 80 different series are available, and over 100 talks are approved by the Accreditation Council for Continuing Medical Education for CME credit. One key feature of the talks is a slide index, allowing you to instantly navigate to specific points in a particular talk. Read more
Are you taking the appropriate steps to store, backup, and secure your data files? Does your research group have formal policies in place that are detailed in your data management plan? If you answered no, or maybe…read on! Read more
Do you need to improve your presentation skills? Falk Library's Group Study Room E is now equipped with the latest technology to help you practice your presentations. The new media console allows you to videotape yourself giving a presentation as well as record your onscreen presentation from your laptop. Saving the video files to a flash drive allows you to take your video presentation with you for review. Read more
We've purchased new rolling whiteboards that are currently available on the library's upper floor. Please feel free to move them anywhere in the library you want to work. Use them to work with classmates or by yourself—to draw diagrams, solve equations, outline projects, or use them to provide a walled off study space. When you're finished, erase your work and leave the whiteboard for the next person.
You'll find whiteboard dry erase markers and an eraser attached to each board.
If you have any questions, please Read more
To quickly learn how to search the thousands of graphics in UpToDate®, click on the image below: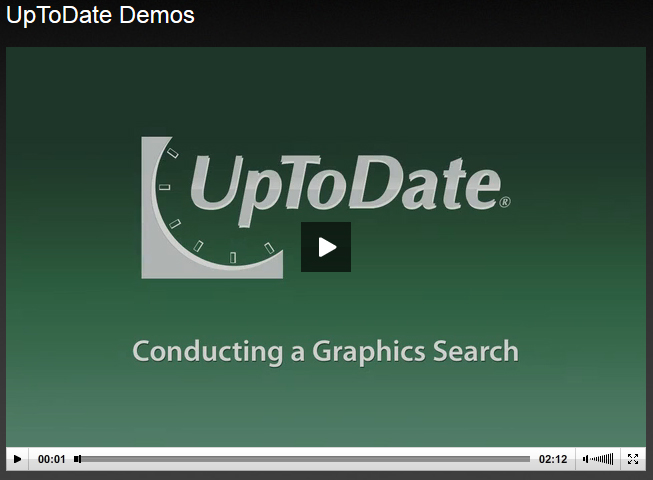 News
Jonathon Erlen, history of medicine librarian, was appointed to the American Osler Society's Executive Board for a three-year term.
Andrea Ketchum, reference librarian, was appointed to the Medical Library Association's Scholarly Communication Committee for a three-year term.
Presentations Read more
HSLS offers classes on database searching, software applications such as Adobe Photoshop, bibliographic management, molecular biology and genetics, and library orientations. For more information, visit the online course descriptions. Read more