January 2019

When HSLS launched the Pitt Data Catalog last spring, we wanted to provide researchers with flexible options for advertising and sharing their data. Now that the catalog has grown to describe more than 20 Pitt-created datasets, that flexibility has led our collection development in surprising and exciting directions. We have recently added our first records describing software code and 3D models, all created by Charles C. Horn, PhD. Read more
The HSLS Molecular Biology Information Service (HSLS-MBIS), in collaboration with the Center for Research Computing, is excited to announce the availability of a limited number of licenses for a long-awaited and powerful tool for processing and analyzing single cell RNA-Seq (scRNA-Seq) data—Partek® Flow®.
What is scRNA-Seq? It's a revolutionary next-generation sequencing technology that focuses on the characterization of individual cells, as opposed to bulk populations of cells. This allows biomedical researchers to make previously challenging discoveries such as the elucidation of gene regulatory networks, the reconstruction of cell hierarchies, and the identification of rare cell types. Read more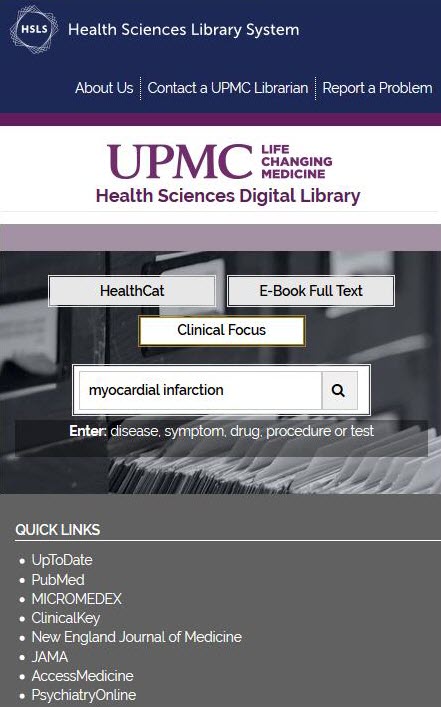 HSLS is pleased to launch the new UPMC Health Sciences Digital Library, the easiest and fastest way for UPMC employees to access cutting edge, high quality medical information. The Health Sciences Digital Library, accessible via the UPMC network, provides streamlined access to the "UPMC Collection"—which includes 5,000 health sciences e-journals, 4,500 e-books, 25 databases of topic specific content, and multiple mobile apps.
For information seekers, the portal is intuitive and easy to navigate. Top resources such as PubMed, UpToDate, and Micromedex are one click away. Three A-Z lists provide targeted title searching, while the UPMC library catalog, "HealthCat," creates advanced library searches. Read more
During finals week in December, HSLS offered a dog therapy study break for health sciences students. Nearly 100 students gathered in our conference room to de-stress by spending time with three furry friends: Mosie and Hava, both Portuguese water dogs, and Blue, a golden retriever. HSLS would like to thank Rick Oberndorf and Melissa Saul, the pet handlers who volunteered their time to this effort.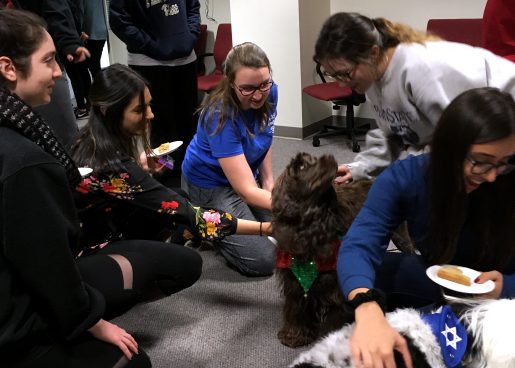 Read more
My NCBI is a free tool developed by the National Center for Biotechnology Information (NCBI) at the National Library of Medicine (NLM). It allows you to customize services for PubMed and other NCBI databases. The features of My NCBI will make searching PubMed and managing your search results easy and convenient.
My NCBI features allow you to:
save search strategies and results
set up an e-mail alert to automatically receive new articles on your topic
establish predefined filters for searches and how results display
enable the automatic highlighting of search terms in your search results for easier browsing
use SciENcv to generate biosketches for the National Institutes of Health, the National Science Foundation, and the Agency for Healthcare Research and Quality
access My Bibliography in order to create and maintain a personal bibliography in order to track all of your publications for use in your biosketch
Another nice feature of My NCBI is the ability to easily access everything stored in My NCBI from anywhere in the world without being connected to the Pitt or UPMC networks. Read more
The HSLS Staff News section includes recent HSLS presentations, publications, staff changes, staff promotions, degrees earned, etc.
All author and presenter names in bold are HSLS-affiliated.
Publications
Jonathon Erlen, History of Medicine Librarian, published "Dissertations in the History of Pharmacy" in Pharmacy in History, 60(3): 100, 2018.
Sara P. Myers, Katherine M. Reitz, Charles B. Wessel, Head of Research Initiatives, et al., published "A Systematic Review of Gender-Based Differences in Hirsch Index among Academic Surgeons" in the Journal of Surgical Research,  236: 22-29, 2019. Read more
Basic EndNote, Tuesday, January 8, 10-11 a.m.
Painless PubMed*, Thursday, January 10, 9-10 a.m.
Infographics: Sharing Information Visually, Monday, January 14, 1-2 p.m.
Locating and Citing Research Data, Wednesday, January 16, 9-10 a.m.
RNA-Seq & CLC Genomics, Wednesday, January 16, 1-4 p.m.
Presentation Zen: Effective Visuals and Design, Wednesday, January 23, 9-10 a.m.
ChIP-Seq & CLC Genomics, Wednesday, January 23, 1-4 p.m.
Painless PubMed*, Thursday, January 24, 11:30 a.m.-12:30 p.m.
Introduction to the Pitt Data Catalog, Friday, January 25, 11 a.m.-12 p.m.
PowerPoint for Conference Posters, Monday, January 28, 1-3 p.m.
Electronic Research Notebooks: Introduction to LabArchives, Tuesday, January 29, 12-1 p.m.
Gene Regulation, Wednesday, January 30, 1-4 p.m.
Create Biological Diagrams with ePath3D, Thursday, January 31, 10-10:30 a.m. Read more