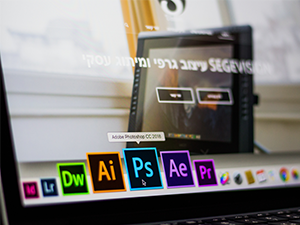 HSLS offers classes in a wide array of subjects—instructional and visual design, molecular biology, literature searching, and more! You can quickly view all upcoming classes and events or sign up to receive the weekly upcoming HSLS classes and workshops email.
Featured workshop of the month: Introduction to Adobe Photoshop and Illustrator
Monday, May 16, 2022, 2-3 p.m.
Register for this virtual workshop*
Photoshop and Illustrator are premier programs for editing images and are widely used across many industries and disciplines. Although other software programs are available for figure creation and research-specific image projects, Photoshop and Illustrator provide many helpful and unique functions for use in the health sciences. Eligible students and faculty may also qualify for Pitt IT-provided Adobe Creative Cloud access.
This class will introduce participants to the basics of image types, which program features are most suitable for different image-editing projects, and how to continue practicing with the software of your choice. The Adobe Photoshop portion of this session will introduce attendees to basic features such as layers, adding text, selecting objects in photos, and more. The Adobe Illustrator portion will introduce common features such as shapes, colors, text, and layers. Through these demonstrations, the audience will see some simple workflows to create and save image files in the appropriate format.
This session is strongly encouraged for beginners who want to see several image-editing techniques, and to determine if Photoshop and Illustrator are suitable for their image projects. No previous experience with Photoshop or Illustrator is necessary, and participants will not be expected to use the programs during this session.
If you are unable to attend, this scheduled session can also be repeated on request. Request a customized session of Introduction to Adobe Photoshop and Illustrator and other HSLS workshops for your course, group, or department.
Contact Ask a Librarian to find out more.
*HSLS classes are open to University of Pittsburgh faculty, staff, and students, as well as UPMC residents and fellows. A valid email address is required to register.
~Marissa Spade