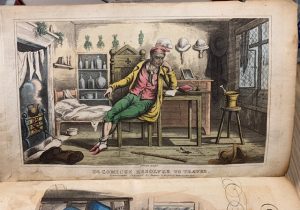 "The Adventures of Doctor Comicus or The frolics of fortune; a comic satirical poem for the squeamish & the queer in twelve cantos" was written by A Modern Syntax in the 19th century. It is a satirical poem about the amusing misfortunes of a poor country doctor during his trip to find a wife and to escape life as the all-in-one village barber, doctor, schoolmaster, and sexton. Whether it was a dream or a real escapade, it ended with Doctor Comicus's sobering observation that,
"Man in his eager haste to seize a bliss,
Which nature never destin'd should be his […]
He dreams of riches, grandeur, and a crown,
He wakes, and finds himself a simple clown."
The author hiding under A Modern Syntax cleverly tied his pseudonym to the widely popular "Dr. Syntax" books, published between 1815 and 1828, that were written by William Combe and illustrated by famous British cartoonist Thomas Rowlandson. A Modern Syntax took advantage of the popularity that Dr. Syntax had earned as a hero through his peregrinations. At the same time, the original Dr. Syntax story was separated from the parody by using the label "modern." A Modern Syntax introduced Doctor Comicus as a new hero who reaped the benefits of his predecessor's fame. It was one of many imitations of Combe's earlier parody.
The copy of "The Adventures of Doctor Comicus" which Falk Library has is in poor condition. It looks exactly like a popular and frequently read mass-produced book: faded and dirty, stained, with brittle and frayed paper, and with chipped covers held by tape. Comparing Falk Library's copy to several other copies teaches us a few things about book history. No doubt that it is a cheap edition with errors. It includes two different iterations of its sixth chapter (meaning it technically has 13 chapters total), but this mistake was never corrected. All editions claim the poem is in "twelve cantos."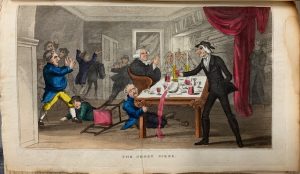 The text and illustrations are the same in the library's copy when compared to other editions. But there are many other differences including the title, pseudonym, typesetting, publishers, printers, and presence or absence of dates. The plates are hand-colored engravings done by Thomas Illman, with many nuances between editions. Some illustrations differ not only in the intensity, shade, and saturation of colors, but they also have differences due to manual coloring, such as switched colors (green pants and yellow jacket in our copy, but the opposite – yellow pants and green jacket – in another copy), and elements not colored in our copy, but painted in the others. The plates can be bound in a different order and orientation, have a title or not, and list the artist or publisher or not. The extra etched title page could bear the name "John Bennet," "Jaques & Wright," or "B. Blake," depending on the edition. Different editions have different numbers of plates. Our copy is illustrated by 15 humorous hand-colored engravings.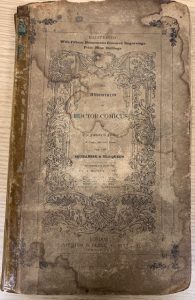 This copy has its original decorated board covers, but it is not the earliest edition. The form of the printer's name on our copy was not used until 1828, according to one reference. It also uses plates in two different styles, so some had to have been published earlier. At the same time, it is very different from the Wellcome Library copy, which was published in 1828. Therefore, we can only estimate that our version appeared sometime after 1828.
This book is an example of how many publishers chased an easy profit by jumping on a popular story to milk it, while also reusing illustrations without a tight grip on technical quality control that led to errors.  
~Gosia Fort