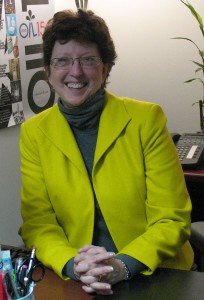 Colleagues and friends mourn the death of Nancy Hrinya Tannery, MLS, former HSLS Senior Associate Director, who passed away on Friday, May 14, 2021.
Nancy had a long history of service to the University and to the profession of health sciences librarianship. She completed an undergraduate degree from Penn State in medical technology, and enjoyed a 20-year career in research before earning her MLS degree from Pitt. She began her career as a Reference Librarian at HSLS in 1996. Her professional skills as a Faculty Librarian and ability to lead and mentor led to a steady rise through a succession of HSLS management positions. Nancy left HSLS in 2017 to serve as Assistant Provost, and retired from the University in 2020 with emerita status.
As Senior Associate Director, Nancy played a key role in implementing the HSLS strategic vision, along with responsibilities in planning, assessment and innovation, oversight of instructional programs and reference services, and supervision of more than 20 librarians and staff members. She authored or co-authored numerous peer-reviewed articles, published abstracts and presentations. During her time at HSLS, she was also a leader at Pitt, completing a term on the Provost's Advisory Committee on Women's Concerns, serving on the School of Medicine's Curriculum Committee, and participating in the school's LCME accreditation review. She was a member and officer in several professional associations, and was honored with the Medical Library Association's prestigious Brodman Award for the Academic Medical Librarian of the Year in 2011. Nancy also participated in the National Library of Medicine's Literature Selection Technical Review Committee (LSTRC) in a variety of roles including an appointment as the 2015/2016 LSTRC Chair.
Nancy leaves behind her husband Rick, parents Eleanor and Leo Hrinya, daughters Emily and Sarah, a large extended family and many, many grieving friends and associates. For those who inquire, the family suggests donations to a library of your choice.
~Barbara Epstein, HSLS Director