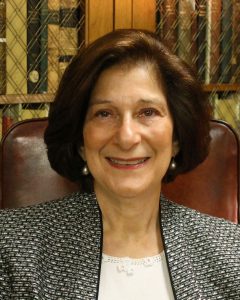 I am retiring as HSLS Library Director, effective July 1, 2021. Except for two years away*, I have been at Pitt in one role or another since 1969: first as an undergraduate, then as a "personal librarian" to the chair of psychiatry, next as Librarian and Library Director at Western Psychiatric Institute & Clinic (now UPMC Western Psychiatric Hospital), and finally as Associate Director, Interim Director, and Director of HSLS. If you prick my finger, I bleed blue and gold. I have had a wonderful career, and have appreciated the opportunities that I have enjoyed at Pitt. I cherish the friendship, collegiality, and expertise of our HSLS staff and the Pitt community, and I am enormously proud of our accomplishments as a leading health sciences library on the national scene.
During my years as a health sciences librarian, I have seen monumental changes in access and discovery of critical information to support research and clinical care. Advances that we only dreamed about 45 years ago are commonplace today: online searching and retrieval of information, immediate communication with colleagues worldwide, increasing democratization of information access, and outreach to new audiences. Librarians are embedded in education and research as trusted collaborators and teachers, and have expanded areas of expertise to include molecular biology information services, data management, systematic reviews, social media, community engagement, and much more.
Given the many changes at this pivotal time for the University and HSLS, I believe this is the right time for me to step back and make way for new leadership. I am confident there will be renewed energy as the university and the library move toward full re-opening and onsite activities. Falk Library and Scaife Hall will see steady progress toward completion of a beautiful new facility.
A formal announcement of my retirement was released from the Senior Vice Chancellor's office, along with the announcement of the appointment of Renae Barger, MLIS, as Associate Vice Chancellor, Health Sciences Library System. Renae is a talented and experienced library leader, and I am confident in her guidance of HSLS in the future.
*What were the 2 years away? One year when I earned my MSLS degree at Case Western Reserve University in my home town of Cleveland, and one year as a school librarian at Carrick High School in Pittsburgh.
~Barbara Epstein, HSLS Director