Painless PubMed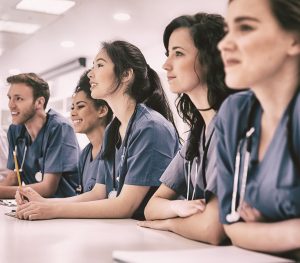 is one of HSLS's most popular workshops since PubMed is a go-to resource for searching health sciences literature. While it is likely that you have searched PubMed before, it is important to consider whether you are getting the search results you want or expect. If not, you might want to consider taking Painless PubMed. The Painless PubMed workshop is named appropriately, allowing attendees to use PubMed in a truly painless way.
PubMed is a trusted source provided by the National Library of Medicine. The PubMed database is expansive, containing more than 30 million citations and abstracts of health sciences-related literature. With so much information at your fingertips, this workshop focuses on how to effectively search the database, build an effective search strategy, and efficiently locate full-text articles. You will learn strategies for fine tuning your search, from navigating the interface, to understanding how the database is translating your search terms. Instructors of Painless PubMed will cover Boolean operators, MeSH terms, how to access full text, and what to do if you can't find the PDF of an article. Additionally, you will learn how a MyNCBI account can help you save your searches and results.
Register* for Painless PubMed to attend this 1-hour virtual workshop:
Wednesday, January 13, 8-9 a.m.
Monday, January 25, 10-11 am.
Missed the most recent offering of Painless PubMed? Don't worry, this course is offered multiple times throughout the semester. Make sure to check out the HSLS Upcoming Classes and Events Calendar to see when it will be offered again, as well as all upcoming workshops.
For timely notification of upcoming classes, sign up to receive the weekly HSLS Classes and Workshops email.
Customized sessions of Painless PubMed and other HSLS workshops can also be requested for your course, group, or department.
* HSLS classes are open to University of Pittsburgh faculty, staff, and students, as well as UPMC residents and fellows. A valid email address is required to register.
~ Marissa Spade