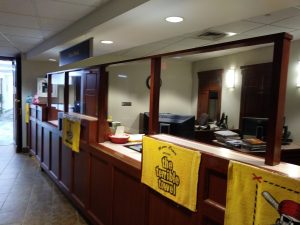 The Falk Library Main Desk has transformed over the past several months to ensure patrons can access our resources and receive library support during the coronavirus pandemic. The Main Desk has reopened with a limited schedule, and you can still visit us online or e-mail medlibq@pitt.edu to ask questions or request services.

Upon reopening, our normal services will be available to users. These  include answering questions, checking out and returning books, placing holds on materials, processing Molecular Biology Information Service software registrations, creating library cards for UPMC residents and fellows, and screening "Ask a Librarian" questions. The Main Desk is where students can come to retrieve physical Course Reserve materials, and new for the fall term, the Main Desk will be placing e-Reserves in the new library system, Primo/Alma. If library visitors have an issue with temperature or noise within the library, let the Main Desk know and a solution will be put in place. The Main Desk also passes out cookies (real ones with sugar, not virtual) to students during finals week, and provides candy and decorates the library for various holidays.
The Main Desk staff have a hand in many library projects, both big and small. The largest project was preparing the library for a move of over 90,000 books and journals from the library to offsite storage to prepare for construction. We also assisted in the move of over 10,000 fragile books from the former History of Medicine area to the newly constructed Rare Book Room. Through the years, Main Desk staff have touched almost every book and journal in the collection!
The Main Desk has five full-time staff and one student worker. It is the first place users see upon entering the library. Whenever the library is open, we are here and fully staffed for your convenience.
~Mary Gail Merlina