Job Access With Speech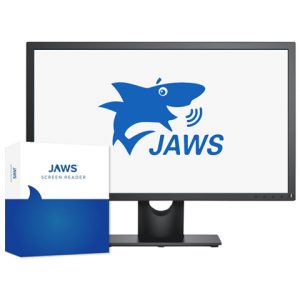 , or JAWS®, is software that reads text on a computer screen to enable easier computer access for people who are blind or have low vision. Listening to JAWS® with headphones, you can use a mouse and keyboard to read a website, edit a document, and send an e-mail. One of the most popular screen reader programs, JAWS® features two multilingual synthesizers and can easily be paired with Braille keyboard input. With licensing support from Pitt Information Technology, JAWS® is now available on Falk Library computers running Windows OS, including classroom computers and laptops.
JAWS® is being offered as part of HSLS's self-service accessible technology offerings. Other programs including NVDA, a freely available screen reader, and NaturalReader, a text-to-speech program, are available to anyone who signs on to a Falk Library computer using their Pitt ID—no special request is required. The desktop of each computer contains an Accessible Resources folder with other readily available websites and browser extensions that facilitate accessible technology use.
If there is an accessibility program, setting, or equipment not currently available at Falk Library, use the online request form or contact the HSLS Technology Help Desk. HSLS Technology Help Desk staff can give you an overview of the accessibility features on the computer and provide assistance with setup during library open hours.
~Julia Dahm