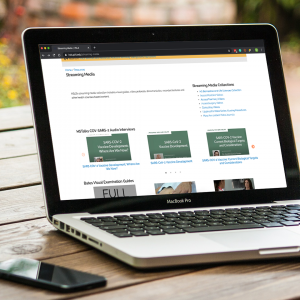 Due the current pandemic, streaming video has taken on a new importance. Now might be an appropriate time to call attention to the HSLS Streaming Media web page. The page currently gives access to well over 10,000 streaming videos—a number which continues to grow daily as providers add new content—plus more than 2,700 (and counting) HSTalks audio interviews with slide presentations. Of particular note during the current pandemic are a pair of special resources about the coronavirus: the JoVE Coronavirus Free Access Resource Center and the HSTalks SARS-CoV-2 Audio Interviews. Both are featured in the top two carousel presentations on the web page. In the case of HSTalks, we continue to add talks of interest related to SARS-CoV-2 as new content becomes available.
In addition to the special focus on the SARS-CoV-2 coronavirus, the Streaming Media web page offers access to videos on a wide variety of medical, nursing, and research topics. Also noteworthy are the popular Bates Visual Examination Guides, including the OSCE Clinical Skills component. These, too, are featured in carousel presentations on the web page, in order to provide easy access. Links to other collections, such as ClinicalKey, AccessMedicine, AccessSurgery, and AccessPharmacy videos, are found under the heading "Streaming Media Collections" on the top right side of the page.
Finally, an extensive selection of video recordings of live events held in conjunction with HSLS are also found in carousels on the Streaming Media web page, including HSLS Post Doc Talks, Reynolds Society and History of Medicine presentations, and other HSLS guest lectures and special exhibits, as found on the HSLS YouTube web page, all gathered in one place for easy access. Videos will be added as new events occur.
In short, the HSLS Streaming Media web page offers a convenient "one-stop shopping" portal to a wide range of relevant video content. Please check it out!
~Mike Yaklich