Are you interested in…
recommending bioinformatics data analysis software options to your department?
promoting data sharing to your colleagues?
switching your lab to using electronic notebooks?
The HSLS Molecular Biology Information Service (MBIS) is pleased to introduce MBIS Information Sessions. We are happy to come to your lab, departmental meeting, seminar, symposium, etc., to present on MBIS resources, including available bioinformatics software, the Pitt Data Catalog, and/or Electronic Research Notebooks/LabArchives.
To schedule an Information Session: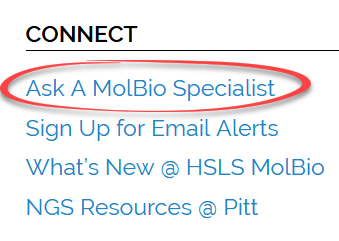 Direct your browser to the MBIS website.
Select Ask A MolBio Specialist under "Connect."
Choose "Schedule an information session…" from the drop down menu.
Indicate the preferred amount of time (15, 30, 45, or 60 minutes).
Fill out the rest of the form with the requested contact information.
Provide details about your request, including dates and expected audience.
Prove you're not a robot.
Click on "Submit."
We will get back to you to confirm your request and finalize details. The MBIS staff looks forward to traveling outside of the library and paying you a visit!
Note that the Ask A MolBio Specialist form also enables you to schedule a consultation, ask a general question, or report a software access issue.
~Carrie Iwema