October marked the one-year anniversary for Pitt's Community Engagement Center in Homewood. Phase II includes a Wellness Pavilion which will expand community health and wellness services. In anticipation of the 2020 opening of the Wellness Pavilion, librarians at the Health Sciences Library System (HSLS) participated on the Health-Focused Community Engagement Team. This team is an interprofessional collaboration among University health science units, most of whom will be working together on community health and wellness programs in the new space.
HSLS anticipates providing support for health sciences students, staff, and community members through identifying health literacy tools and authoritative, relevant health information resources to aid community health. Ideas are ongoing to partner with the Homewood Branch of the Carnegie Library of Pittsburgh on health information programs. HSLS also receives funding from the National Library of Medicine to serve as the regional medical library for the National Network of Libraries of Medicine, Middle Atlantic Region, providing direct outreach to meet the health information needs for community organizations and health centers.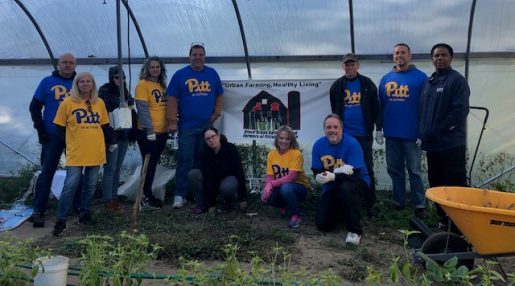 As part of Pitt's Day of Caring, two HSLS librarians volunteered specifically for Homewood projects, offering opportunities to engage with the Homewood community. Mary Lou Klem enlisted in the Operation Better Block project to prep the community's rain garden for the winter, while Renae Barger volunteered to remove debris and build a planting garden as part of the Black Urban Gardeners and Farmers Coop project.
~Renae Barger, Associate Director for Research, Instruction, and Clinical Information Services