Michele Klein-Fedyshin, MSLS, AHIP, BA, BSN, RN, was named a Fellow of the Medical Library Association (FMLA). Fellows are elected by the Board of Directors in recognition of sustained and outstanding contributions to health sciences librarianship and to the advancement of the purposes of MLA.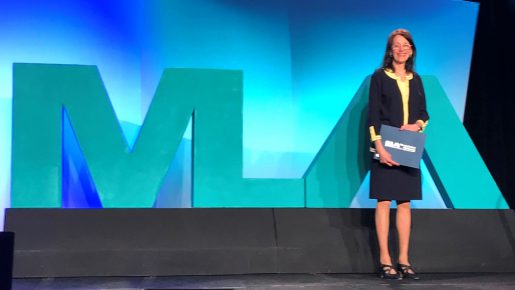 Recognitions continued with Barbara Epstein, MSLS, AHIP, FMLA, and Melissa Ratajeski, MLIS, AHIP, RLAT, for completing their term as Immediate Past President and Chapter Council Chair, respectively. Elaina Vitale, MLIS, was selected for the 2019-20 cohort of the MLA Rising Star program, which gives members the opportunity to develop skills and knowledge needed to become a leader in MLA. In addition, Carrie Iwema, PhD, MLS, AHIP was recognized for serving on the MLA Educational Steering Committee, which received the 2019 President's Award.
HSLS is proud to highlight these notable leadership and service activities in support of the profession. Congratulations to all!