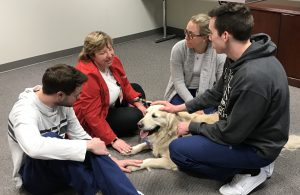 Many university campuses offer pet therapy programs to reduce stress and promote student well-being, particularly around exam times when stress levels rise. Research exists to show the short-term psychological benefits of such therapy sessions. Therefore, HSLS recently collaborated with our 2nd year medical student well-being taskforce to pilot Falk Library as a location for dog therapy. In February and March, HSLS offered three dog therapy sessions, scheduled around study for the United States Medical Licensing Examination (USMLE) Step 1 medical board exams. Total attendance for all sessions reached nearly 60 and informal feedback was extremely positive, prompting us to offer another session open to all health sciences students in April, coordinated near final exams.
Although we did not measure blood pressure or heart rate, or conduct formal interviews with the students to assess feelings of well-being, we did measure our success through positive interaction, laughter, and smiles and plan to continue pet therapy programs in the future.
HSLS would like to thank Rick Oberndorf and Nancy Olson, the pet handlers, who volunteered their time to this effort.
~Renae Barger