In a recent WPXI news story, Pitt medical student Angelica Escobar demonstrates how using virtual reality (VR) can be incorporated in medical training. In her scenario, she approaches a person found lying in the basement and has to decide her first response. Will she give them naloxone? Or call 911? "It makes something that is very scary, that can be very daunting, it makes it more approachable in a safe environment," Escobar said.
This virtual reality program developed at the WISER Institute in conjunction with WyzLink technologies will be available at Falk Library, providing a new way to connect our Pitt health sciences community with simulations and applications utilizing cutting-edge VR technology. The library-based equipment includes Lenovo Explorer headsets connected to graphically enhanced computers running Windows Mixed Reality. Handheld controllers are used to navigate through the virtual scenario, such as walking through a room or selecting an object. In all scenarios, you can experience the immersive feeling just by wearing the headset and maneuvering the handheld controllers. Chairs are provided for those using the technology to provide a safer experience.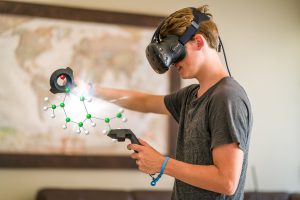 Medical training experiences, like the one that Escobar demonstrates, will be the core offerings on the HSLS-based VR equipment, allowing for curriculum-integrated training. Other medical applications include 3D Organon VR Anatomy, an anatomy atlas, and MedicalHolodeck DICOM viewer for MRI and CT scans. Simple scenarios also are available for those who just want to explore what the virtual reality experience is like.
Interested in trying out the virtual reality equipment? Inquire at the Technology Help Desk on the upper floor of Falk Library. Your Pitt ID will be needed to access the equipment, and an online reservation system is pending.
~Julia Dahm