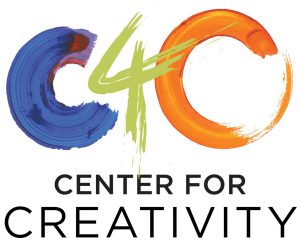 Over the years, journals such as Academic Medicine, Journal of Nursing Education, and the American Journal of Pharmaceutical Education have published articles about the benefit of creative outlets for students through visual arts and creative writing.
The University's Center for Creativity celebrates the creative process as exercised across academic and research disciplines. Its first facility, the Workshop, opened last year in the lower level of the University Store on Fifth. Open to all Pitt faculty, staff, and students, the Workshop is a place to "make stuff" and to work through questions through hands-on activity.
The heart of the Workshop is its open space where the Pitt community can drop in to exercise creative muscles. While there, you can play piano (or drums, guitar, ukulele, and theremin!); design and print a 3D sculpture; knit; throw a clay pot; tinker with Arduinos; experiment with paints; and much more at no cost.
As a community space, the C4C Workshop also serves as a place to engage with others in an informal setting and make unexpected connections. Stop by with a colleague or classmate and discover how conversation while sketching leads to new ideas.
A number of faculty have found that the Workshop provides an innovative setting for class work, brainstorming, and team building (see the online reservation form for group reservations). The Center for Creativity provides creators with opportunities to make connections with other creative people outside of their department or school and encourages partnerships that establish new creative opportunities for the University community.
"The Center has provided the space, both physically and socially, to connect with new people and new ideas. At the Center, I had the chance to come up with Dream Courses that combined Health Sciences, Engineering, the Humanities…the Center helped both the free flow of ideas and the potential for planning and implementation. Having a chance to meet in the Center is great because the environment alone can inspire such great discussion."

~ Ravi Patel, PharmD
School of Pharmacy
Check out the C4C calendar for upcoming events and activities.
~Melissa Ratajeski