Group Study Rooms in Falk Library are a popular service, providing space for quiet study or group collaboration. A new online system was implemented in February to make online booking more robust. Powered by LibCal, the new online booking Web site provides a new look and features, including:
A quick view of open time slots (green) and booked time slots (red)
The option to sort by large groups (2-8 people) or for single users (1-4 people)
Pop-up information about each room
The ability to book up to five days in advance
A list of confirmed bookings by name or nickname
A summary of FAQ policies upon choosing a time slot
An e-mail confirmation of your booking, with an option to cancel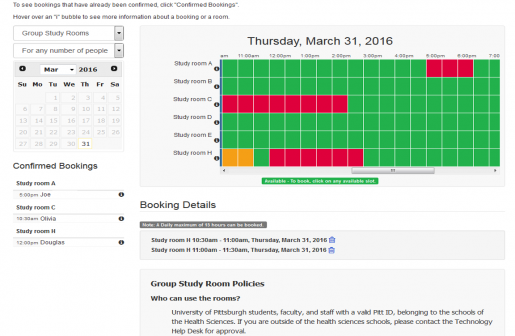 To schedule a room for yourself or a group:
Find a room with the correct capacity. Rooms are for either 1-4 people, or 2-8 people.
Click on a green square corresponding to the start time, and click on subsequent squares for each additional half hour. A total of 4 hours (8 slots) can be made per person at a time.
Review the policies for room use to ensure that you are eligible. Once confirmed, click on Continue.
Fill out your information, including your name, e-mail address (Pitt only), name on booking, number of people in your group, your school; and then click on Submit.
You will receive an e-mail with a link to confirm or cancel your booking.
The Technology Help Desk manages the online room booking system and also circulates the keys to access the rooms. For questions about booking or using a Group Study Room, call the Technology Help Desk at 412-648-9109, or stop by the desk on the Falk Library upper floor.
~Julia Dahm