BrowZine provides an easy way to browse and read thousands of scholarly journals from publishers such as JAMA Network, Nature, American Psychological Association, BMJ Publications, PLoS, Biomed Central, and many more. Pitt users can access BrowZine on their Web browser or through the easy-to-use mobile app.
Why Use BrowZine?
BrowZine's "My Bookshelf" feature makes staying up-to-date easy. You simply select your favorite journals and then click on Add to My Bookshelf. New article notifications are sent automatically, and you always get the full text, whether you are onsite or working remotely.
You can also:
Quickly view table of contents of current and past journal issues.
Export citations to EndNote, Mendeley, Zotero, RefWorks, Dropbox, and other services.
Share with other researchers by posting to Facebook and Twitter or e-mail articles.
Getting Started
The BrowZine mobile app is freely available for the iPhone/iPod touch/iPad (running iOS 7.x+) from the Apple App Store, Android devices (running OS 4.1+) from the Google Play Store, and Kindle Fire HD tablets from the Amazon Appstore for Android.
To use the mobile app, follow these steps:
Download the app onto your mobile device.
When you first open the app, under "Choose Library" you'll see a list of schools. Select University of Pittsburgh.
You'll then be asked to enter your Pitt Computer Account username and password.
If you are using an Apple product, you'll be prompted to register in order to sync across your devices. This feature is coming soon for Android products.
The nice thing about the mobile version is that once you have successfully logged in, you won't have to do it again.
You can also access BrowZine on your desktop/laptop by using the Web version.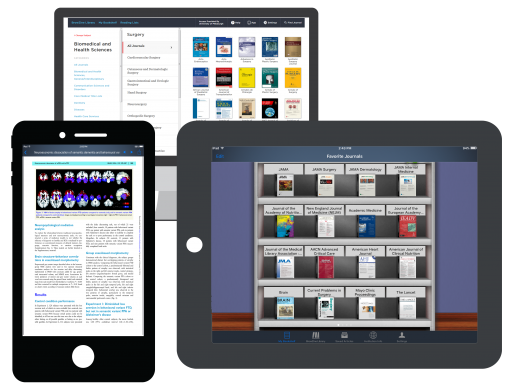 For more information about BrowZine, contact the HSLS Main Desk at 412-648-8866 or Ask a Librarian.
~Jill Foust