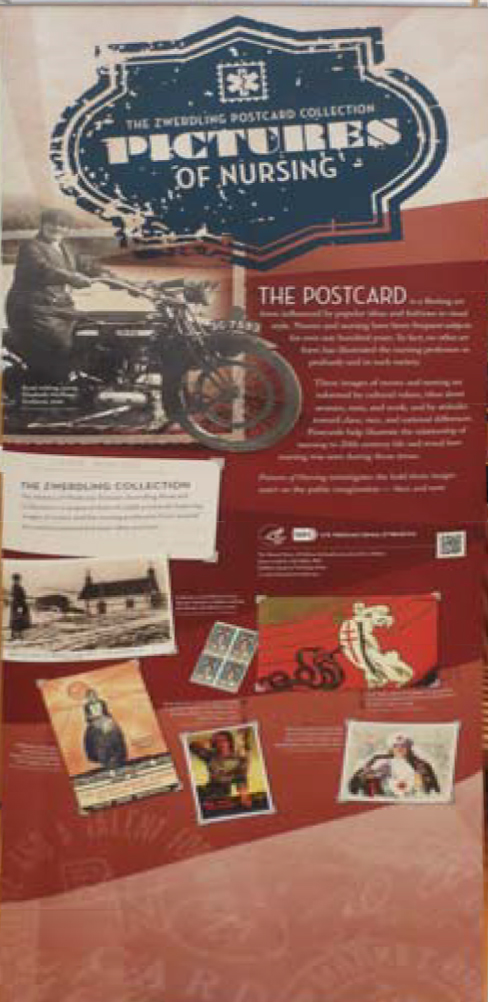 Nurse Michael Zwerdling has collected over 2,500 nursing related postcards dated between 1893 and 2011. These postcards illustrate a long history of the nursing profession in the U.S. and abroad. Pictures of Nursing is an exhibit developed by the National Library of Medicine to showcase the Zwerdling postcard collection and discuss the themes of nursing history that it depicts.
Falk Library Exhibit
The exhibit features six panels and a video presentation, which are on display on the main floor of Falk Library from April 4 through May 13, 2016. The library is also displaying a set of artifacts on loan from the School of Nursing. The first class of Pitt's School of Nursing started in 1939 and graduated in 1943, with a rich 76-year history. Some of the artifacts include early handbooks, the lamp and pin received at graduation, and a nurse's cap from the 1950s. The exhibit and School of Nursing display are open to the public and can be viewed during the library's open hours.
Lecture & Reception at Victoria Hall
A special lecture and reception will be held in conjunction with the exhibit on Thursday, April 14, 2016, at 7 p.m., on the first floor of Victoria Hall. Dr. Brigid Lusk, from the University of Illinois at Chicago, will present "Nursing: Beyond the 4×6 Image." The exhibit panels will be temporarily moved to the reception site for guests to view. All students, alumni, faculty, and staff are invited to attend; if interested, please RSVP to Jennifer Fellows at jmw100@pitt.edu or call 412-624-5328.
For more information on the Pictures of Nursing exhibit and events, please visit the exhibit Web site.
~ Julia Dahm