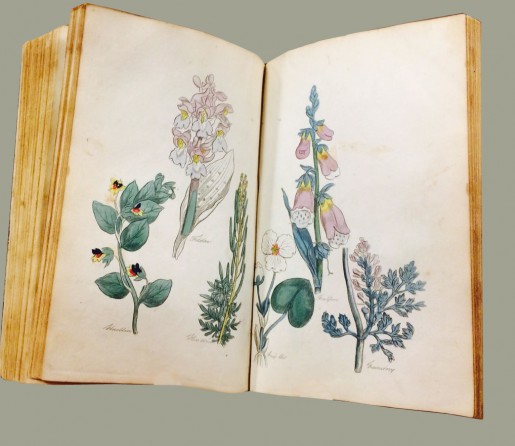 Herbals or herbaria—books describing herbs and their medicinal uses—are among the earliest literature created. They may be in the form of manuscripts, scrolls, codices, or loose sheets. Falk Library has several 18th century herbals, but the 1822 edition of John Hill's Family Herbal is particularly interesting for three reasons: it has color plates unlike earlier herbals in our collection, it has an interesting provenance, and it was written by an author with a notorious reputation.
John Hill (1714-1775) was a polymath, a Georgian botanist, author, and self-promoter. He started as an apothecary, and rose to be the highest paid journalist of his time. Though he lacked a formal university education, he published extensively in botany, medicine, geology, history, and astronomy. He was a brilliant and prolific writer whose books were very popular. His "famous five" potions to cure most common afflictions brought him fortune. This helped to fund his lavish life style, but did not prevent him falling into debt and dying in poverty. Hill introduced the Linnaean classification of plants into England. Though hard working and ambitious to the extreme, his obnoxious behavior earned him epithets like "despiteful" and "shameful" by his contemporaries. He fell into oblivion until George Rousseau published, The Notorious Sir John Hill: The Man Destroyed by Ambition in the Era of Celebrity, in 2012.
The Family Herbal was originally published in 1755. The 1822 edition has beautiful hand-colored plates. It's an excellent example of a book loved and well-used as indicated by the collector's ex libris, (his signature), the handwritten index inserted at the end of the volume, and the need to re-back the original leather binding damaged by frequent use. The book belonged to a well-known dentist, William H. Trueman, founding member of the State Dental Society of Pennsylvania. His personal library of 1,250 volumes was eventually donated to the Dental School Library at Northwestern University, although several books, including this one, were acquired by Pitt's former Dental School Library, and subsequently integrated into Falk Library's Rare Book Collections.
~Gosia Fort