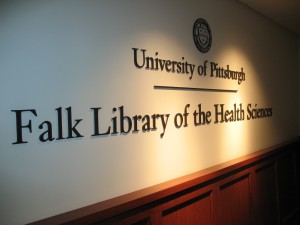 In February, the library conducted a one-week in-library survey to learn your thoughts about the library space. One hundred and eighty three surveys were completed, 95% of these by students. We learned that when you are in the library, you want a quiet, comfortable place to work with no distractions. You may use one of the library's computers, or find a space with an outlet to plug in your own device. A number of you prefer larger tables with room to spread out. A majority, 67%, responded that you sit in the same area of the library, if it is available, every time you visit.
We asked for suggestions about what else you'd like to have in the library. You requested self-service printing and the ability to reserve group study rooms online, both are already available! In response to your comments, we have added more paper recycling bins, fixed some of the wobbly tables, and repaired the banging doors at the 2d floor entrance to Scaife Hall. The fluctuating temperature in the library has always been a challenge. We try our best to regulate the temperature as the seasons change, so please let the staff at the Main Desk know if you are too hot or too cold. We are in the process of replacing the keyboards and mice on public computers, we plan to start circulating chargers for your mobile devices for use in the library, and we have ordered keyboard wipes to clean the keyboards between users. Many of you commented on the lack of chair padding on many library chairs, and the need for more outlets and more study rooms, and you requested new water fountains. We hope to address these requests in future renovations.
We have no current plans, however, to build a coffee shop or café within the library since there is a Starbucks and a cafeteria in the building already. Many of you mentioned that you'd like to eat in the library, but almost as many asked that we not allow food due to noise and the smell.
All of us who work in the library agree with those of you asking for more natural light, sunlight, and windows. We too wish the library wasn't underground.
Finally, we were pleased to read the many positive comments: "I am satisfied with the current environment in the library"; "I like the library as is"; "the library is great"; and "I like the recent changes that have been made."
Thank you for sharing your thoughts with us.
~Nancy Tannery