Now that the cold weather is keeping everyone inside, it's a good time to take a break and lose yourself in a good book. Come explore the new LeisureReading@HSLS Collection in Falk Library. The LeisureReading@HSLS Collection is a revolving collection of newly-published, general fiction and non-fiction books, as well as a selection of popular magazines. The collection is located on the main floor of Falk Library in the comfortable seating area just before and to the left of the History of Medicine Department.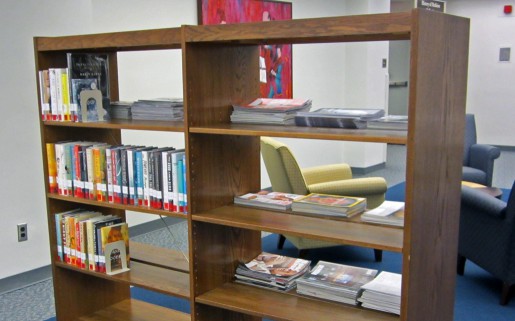 Use PITTCat or the Pitt Resources Quick Search box to locate books in the collection.
A number of the books in the LeisureReading@HSLS Collection have recently appeared on the New York Times Best Sellers list and include:
Fiction:
Sycamore Row by John Grisham
Doctor Sleep: A Novel by Stephen King
The Goldfinch by Donna Tartt
Inferno by Dan Brown
Innocence: A Novel by Dean Koontz
The Valley of Amazement by Amy Tan
The Luminaries: A Novel by Eleanor Catton
Nonfiction:
George Washington's Secret Six: The Spy Ring That Saved the American Revolution by Brian Kilmeade and Don Yaeger
I Am Malala: The Girl Who Stood Up for Education and Was Shot by the Taliban by Malala Yousafzai with Christina Lamb
One Summer: America, 1927 by Bill Bryson
Lean In: Women, Work, and the Will to Lead by Sheryl Sandberg
You can borrow multiple books at any one time for a three-week period. If a book you want to read is checked out to another person, you can place a hold on the book and you'll be notified when it is returned.
The books are currently being selected by HSLS staff, but you can recommend a new or forthcoming book by sending your suggestion via Ask a Librarian.
Popular magazines in the LeisureReading@HSLS Collection include:
The Atlantic
The Economist
Harper's
National Geographic
Natural Medicine
The New Yorker
Sports Illustrated
Time
Vanity Fair
Wired
Magazines are for in-library use only and do not circulate.
The LeisureReading@HSLS Collection is a pilot project to see if a leisure reading collection is attractive to our users. For more information, contact the Falk Library Main Desk at 412-648-8866 or send an e-mail to Ask a Librarian.
~ Jill Foust