Are you a nurse or physical therapist trying to use your mobile device to conduct research? Access the CINAHL database, via the EBSCOhost app, to locate journal articles, books, and conference proceedings related to nursing and allied health fields. The app is available to Pitt and UPMC users through the HSLS subscription to the full CINAHL database.
Compatible Devices
The EBSCOhost app is free to download and is available for the iPhone/iPad from the iTunes App store (iOS 3.0 or later required) and for Android devices from Google Play (Android 2.1 or later required).
Getting Started
An authentication key is required to use this app. To obtain the key:
Direct your browser to CINAHL.
Scroll to the bottom of the page and then click on iPhone and Android apps.
Enter your e-mail address and then click on Send.
Access your e-mail from your mobile device and follow the instructions. If the EBSCOhost app has not yet been downloaded on your device, a link will be provided to do so.
Once the app is authenticated, it can be used for nine months, after which you must send yourself a new authentication key from the EBSCOhost interface by repeating the above instructions.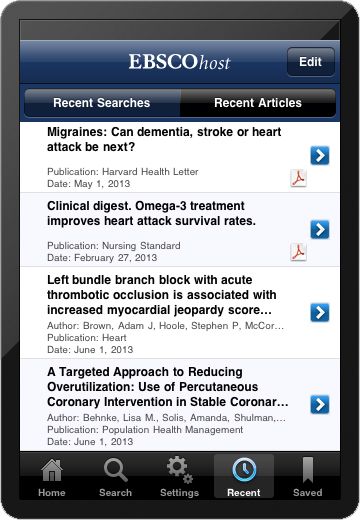 App Features
Search using keywords, subject headings, or author name.
Save your searches and citations.
Send articles via e-mail.
Limit your results by full-text PDF availability, date range, or articles from peer-reviewed journals.
Limitations
The app does not provide full-text access to all articles available through HSLS subscriptions; it only links directly to selected full-text articles available in PDF. Also, the full version of the CINAHL database allows additional limits such as inpatients, outpatients, and pregnancy.
For more information about the CINAHL database, via the EBSCOhost app, or other mobile friendly versions of HSLS resources, such as Micromedex and AccessMedicine, direct your browser to the HSLS Mobile Resources Web site.
~ Melissa Ratajeski