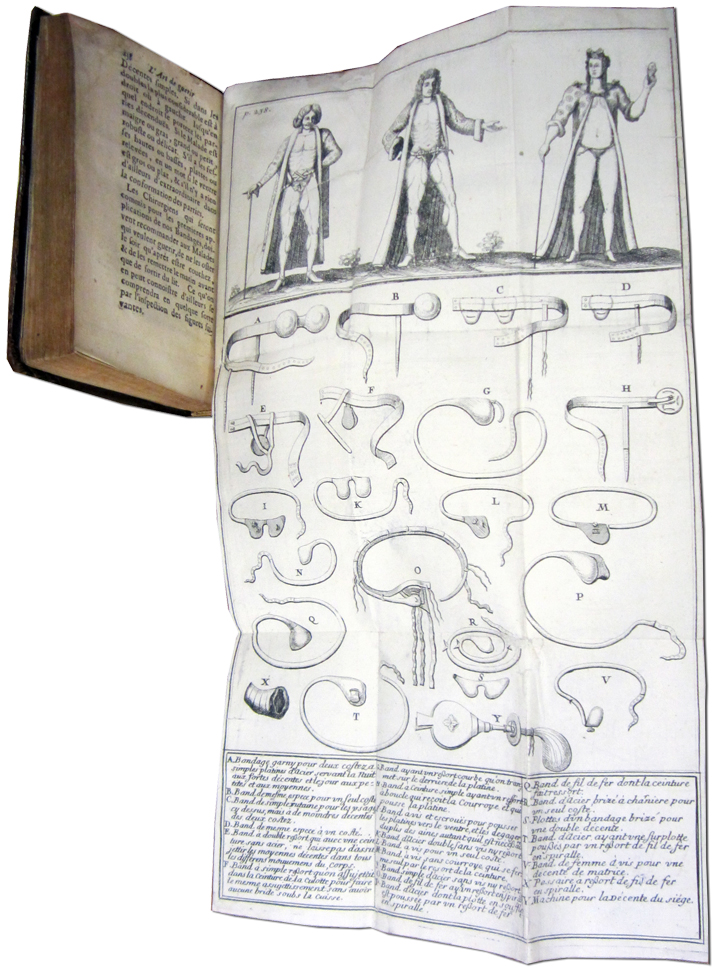 The history of medicine is full of controversial and colorful figures. Nicola de Blégny (1652-1722) certainly fits that description. He was a man of many talents: essayist, historian, physician, and surgeon. His birth date is disputed, although it is known that he was born in Lyon. He started his surgical career as a designer of trusses used in the treatment of hernia, but quickly climbed the social ladder to become physician to Queen Marie Therese (1678) and later to King Louis XIV of France (1682). He was a prolific author and left a number of works. These include monographs on hernia, venereal diseases, health, remedies for fever, and the use of coffee and tea. For some, he was a genius, for others—a quack.
He must have been quite an entrepreneur to have been active in so many areas. He was a founder of a royal laboratory. It was only natural that he wanted to expand and organize the drug depot. As a result, he established a series of luxurious shops to sell products from the laboratory. He is also remembered as a founder of the first French medical journal, Les Nouvelles Découvertes sur Toutes les Parties de la Medicine in 1679.
The brilliant career of this medical adventurer ended in scandal. He was arrested in 1693 and detained for several years in Angers. He died in disgrace in Avignon in 1722.
Falk Library owns two rare editions of L'art de Guerir les Hernies [The Art of Curing Hernias], one of Blégny's early works. The 1693 edition (shown in the image) is bound in full brown sheepskin and sewn on five raised bands, which form six panels on the spine. The title is tooled in gold in one of the panels, while the rest of the panels are decorated with gold lines and floral design. The work includes a beautiful folded plate with 20 illustrations of different trusses (some of author's design) used in treating hernias.
The books can be viewed in the Rare Book Room by appointment.
1. Bouvet, M. "Le 'Laboratoire Royal' au Collège des 4 Nations." Revue d'histoire de la Pharmacie 32 (1944), 9-12.
2. Nicholls, A.G. "Nicolas de Blégny and the First Medical Periodical." The Canadian Medical Association Journal 31, no. 2 (1934), 198-202.
~ Gosia Fort