The newly released Dietary Supplement Label Database (DSLD) provides access to the product information listed on the labels of approximately 17,000 dietary supplements. The database is the result of collaboration between the National Institutes of Health's Office of Dietary Supplements and the National Library of Medicine's Office of Specialized Information Services.
DSLD is designed for researchers, health care providers, the general public, and anyone else interested in seeing the full dietary supplement label for products that are currently on the U.S. market and those that have been discontinued or are no longer on the U.S. market.
All information in the database is obtained from the manufacturers' labels. At the bottom of each page of the database there's a disclaimer that reads: "All information contained in the Dietary Supplement Label Database comes from dietary supplement labels. The dietary supplement label may not have met the then current nor meet current U.S. Food and Drug Administration (FDA) regulations. The presentation of dietary supplement label information is not an endorsement or guarantee of accuracy by the Office of Dietary Supplements or the National Library of Medicine, both part of the National Institutes of Health, U.S. Department of Health & Human Services."
Database features:
Use the quick search feature to search any label information
Browse an alphabetic list of dietary ingredients and their corresponding products
Browse an alphabetic list of products by product name
Browse an alphabetic list of contacts, such as manufacturers and distributors
Use the advanced search feature to focus a search on any label information
Other helpful tools include a Unit Conversion table, a Daily Value table (provides information on Percent Daily Value or DV), Dietary Reference Intakes (DRI), and definitions. Also included are frequently asked questions about dietary supplements, a list of reference sources (information on Web sites related to DSLD), and a help section.
DSLD data are available for download as comma-separated value (CSV) files and may be opened in a spreadsheet program such as Microsoft Excel or by most standard statistical packages (see the Help section).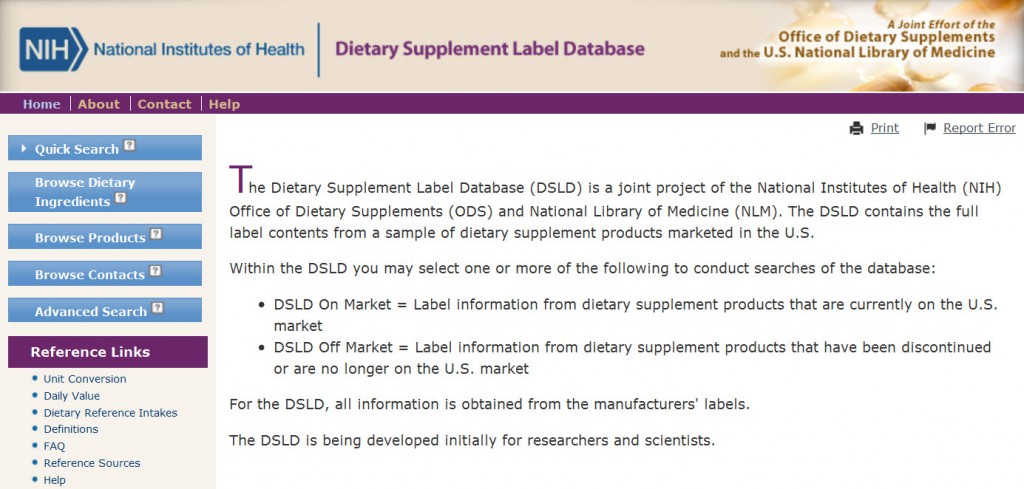 *Parts of this article were reprinted from the National Institutes of Health's Dietary Supplement Label Database Web site.
~ Jill Foust