On March 27, 1891, Dr. Elmer E. Wible (b. 1867) graduated with honors from the Medical Department of the University of Pittsburgh and was awarded a case of general amputating instruments as a surgical prize. Wible lived and worked in the Pittsburgh area and was associated with West Penn, Homestead, and Columbia hospitals, where he worked as a surgeon and later as an oculist. In 1922, he attended an International Congress in Ophthalmology in Washington, D.C. He also served in the Spanish-American War and World War I. But beyond this small amount of information, little has been recorded about his professional life.¹ On June 1, 1942, he donated the instruments and case to his alma mater. It is currently owned by Falk Library.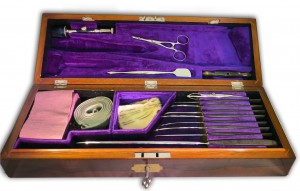 The antique amputation surgical set (c. 1890) was fabricated by George Tiemann of New York. The wooden case with a key lock is lined with purple velvet. The bottom compartment holds eight surgical knives, one artery forceps, five needles, an elastic bandage, and a tourniquet with an iron chain. The top compartment includes a Galt trephine, trephine handle, trepanning elevator and rasps, and lithotomy forceps. The set is lacking one capital saw, one bone forceps, and two unidentified instruments. Otherwise, it is in perfect condition.
The majority of instruments have the post-1860 marks of Tiemann & Co. in block font, but other indicators suggest that it's a post-Civil War set. Firstly, it includes Esmarch's tourniquet introduced in 1873. Secondly, it has a printed advertisement inserted in the case by Artificial Limbs MFG Co., (most likely a Pittsburgh distributor of the instruments) which praises the new tourniquet as a winner of many awards, the latest being awarded in 1876. Finally, after the Civil War, Tiemann mixed instruments with different markings in the same sets. This one includes Galt's trephine and lithotomy forceps with marking in a later sans serif font, which would set the date in the late 1880s.
This interesting surgical instrument collection complements the Civil War surgical set described in the December 2010 article, "Treasures from the Rare Book Room: Civil War Post-Mortem Surgical Set."
Both sets can be viewed in the Rare Book Room by appointment.
1. Thompson, Loyd and Winfield Scott Downs. Who's Who in American Medicine (New York: Who's Who Publications, Inc., 1925), 1620.
~ Gosia Fort