A summary of this year's Emergency Preparedness Poll from Adelphi University's Center for Health Innovation indicates that 48 percent of U.S. adults lack emergency supplies, 55 percent believe that local authorities will help them in their time of need, and only 18 percent report receiving information on healthcare preparedness from the media. This provides an excellent opportunity for healthcare and information professionals to become involved and advance their knowledge of emergency and disaster health information resources.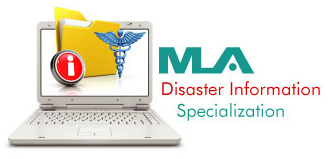 A good place to start is with the Medical Library Association (MLA) and National Library of Medicine's (NLM) Disaster Information Specialization Program and the National Network of Libraries of Medicine, Middle Atlantic Region's (NN/LM MAR) in-person and online training and awareness workshops.
MLA and NLM have developed a continuing education program in disaster and emergency preparedness. There are five courses required for the basic certificate with additional courses being offered for an advanced certificate. Barb Folb, HSLS public health informationist and reference librarian, teaches one of the advanced courses, Ethical and Legal Aspects of Disaster Response. Courses are offered in a classroom setting or online at no cost. Eligibility is open to librarians and library staff at all types of libraries, as well as those affiliated with the disaster workforce.
Acquiring the Disaster Information Specialist certificate will demonstrate that you have the knowledge and skills necessary to support your institution or organization, educate your patients and their families, and empower the community in the event of a disaster or public health emergency.
The NN/LM MAR provides training in the use of NLM's disaster information resources. Also offered are funding opportunities for information professionals to collaborate and form partnerships that enhance health information access for public health and healthcare professionals. For further information, visit NN/LM MAR, call 412-648-2065, or e-mail NN/LM MAR.
~ Michelle Burda