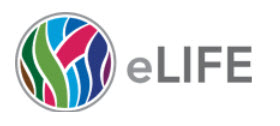 eLife is a timely open access e-journal published under the auspices of the Howard Hughes Medical Institute, the Max Planck Society, and the Wellcome Trust. The eLife initiative aims to bring funders and researchers together in a unique collaboration with the overall goal to communicate new research findings in life and biomedical sciences.
The eLife journal is expected to be launched this winter. In the interim, the full content of its first collection of articles is now available and can be accessed at eLife: The Journal, the National Library of Medicine's PMC digital journal archive, and its mirror sites including UK PubMed Central.
Access to the full content of the journal is free and available immediately upon publication. All content is published under the terms of the Creative Commons Attribution License.
Fast facts about eLife:
Scope: Research communication in life and biomedical sciences
Audience: Researchers, in particular early-career researchers
Review Process: Swift, transparent, fair and constructive
Access: Open
Content: Value is added by inclusion of rich media presentations, accessible data, metrics to track the impact of contributors, and avoiding the imposition of extraneous limits on articles
Editors: The 21 member international Senior Editorial Team and 175 member Board of Reviewing Editors represent a wide array of expertise
Publishing Fees: None (for the time being)
To view the author and reviewer guides, direct your browser to the eLife Manuscript Management System.
*Parts of this article were reprinted from eLife.
~ Ester Saghafi