Until recently, the National Center for Biotechnology Information's Images database provided access to images in PubMed Central (PMC). This database no longer exists as a separate entity because you can now search for images directly in PMC. PMC is the National Institutes of Health digital archive of biomedical and life sciences journal literature. It contains over 2.2 million articles.
A basic search in PMC will look at all image captions in the database and retrieve images related to your topic. For example, a search on "liver cancer therapy" retrieves the usual list of summary citations, and a maximum of four thumbnails of the most relevant images that appear on the top right side of the results page.

Users then have two options:
1. Move the mouse over any of the thumbnail images and the image will appear in a new window, along with its caption and basic article information.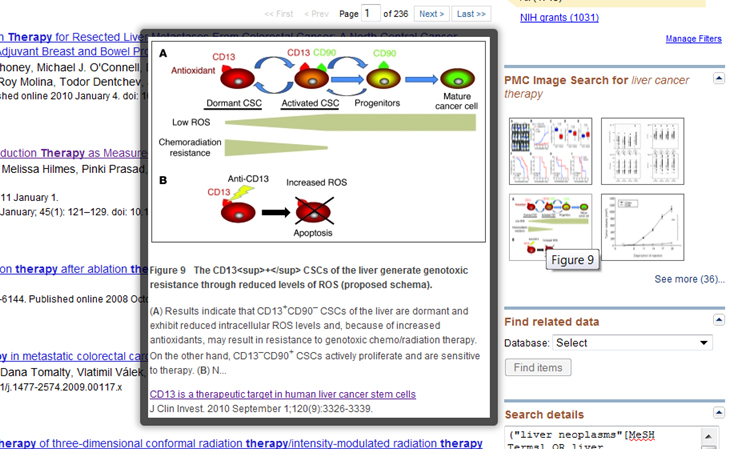 2. Click directly on one of the thumbnail images and two windows will open, one that shows the full-text article and another, the image view.
Click on "See more…," under the thumbnail display, to view a new search results page that lists all the matching images in PMC.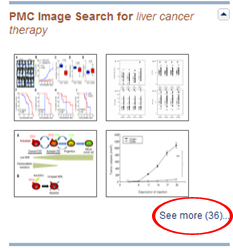 The image thumbnails display next to their corresponding article citations, which also include links to both the full-text article and the corresponding article citation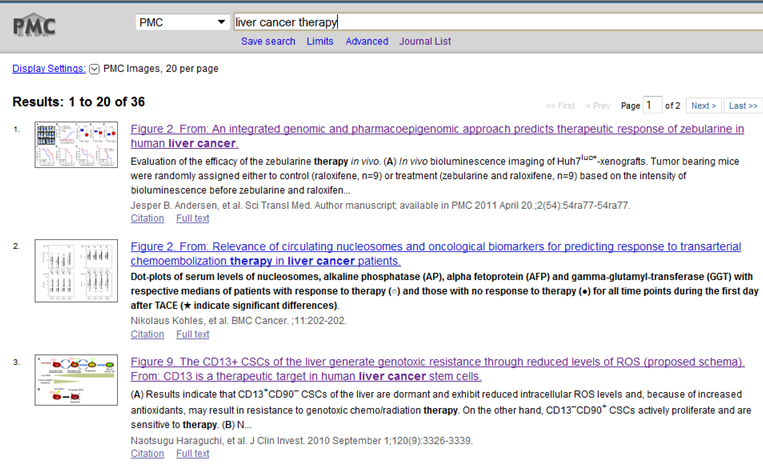 Images will not appear for searches that use Limits or Advanced Search features.
The images contained in PMC may be subject to the general copyright restrictions that apply to material available through the NCBI site. For more information, see the NCBI Copyright Notice, and PubMed Central Copyright Notice.
Parts of this article were reprinted from the NLM Technical Bulletin, July-August 2011.
~ Jill Foust