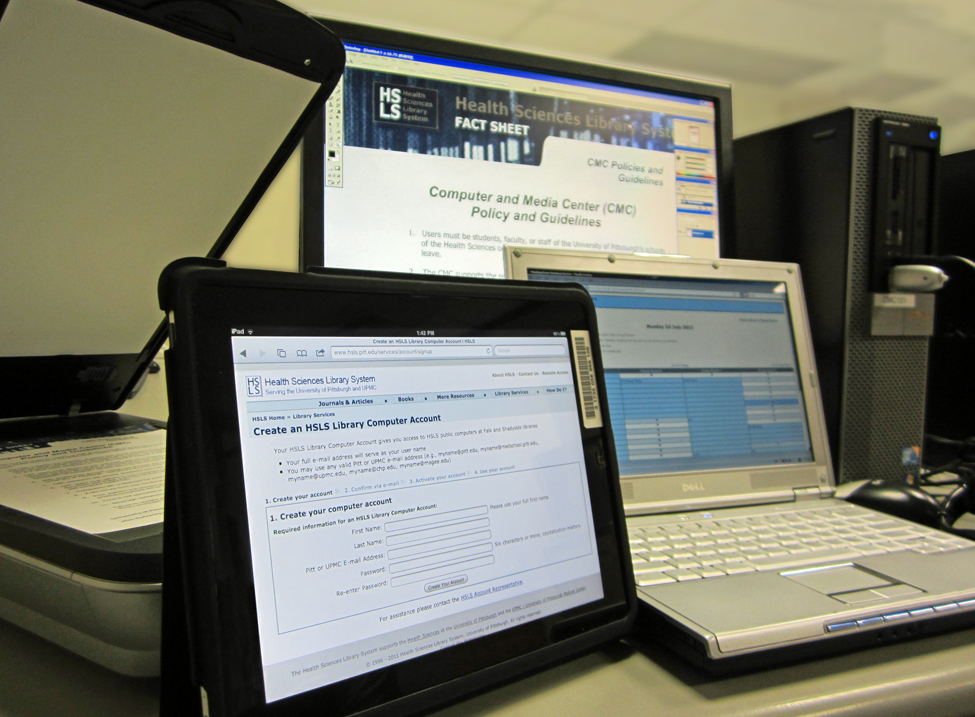 The Computer & Media Center (CMC), located on the second floor of Falk Library, is open to UPMC and Pitt health sciences faculty, students, and staff. The computer lab and helpdesk services are available during the same hours as Falk Library, except the CMC closes thirty minutes before the library does.
Group Study Rooms
Falk Library hosts four group study rooms, available for two to eight people. Each room is equipped with a plasma display monitor that can be connected to a laptop. Individuals can reserve group study rooms, either online or on a first-come, first-served basis from the CMC helpdesk. Keys and laptops for these rooms can be picked up at the CMC helpdesk. Before reserving a room, please consult the Group Study Room policies.
In-house Hardware and Software
The CMC's computer lab has Windows XP- and Windows 7-based Dell computers, along with several Macintosh computers. A valid Pitt login or HSLS Computer account is needed to connect to the Internet. The computers are equipped with software for word processing, spreadsheets, statistics, graphics, video editing, and database management.
Peripheral hardware includes CD-ROM and DVD-ROM writers, video capturing devices, and flat-bed scanners. The CMC also houses two televisions with VHS videotape players and DVD players.
Printing
Color, black-and-white, and double-sided printing are available from the CMC. Cash and change are accepted methods of payment. Medical students can use their subsidized accounts for printing on the black-and-white printer only.
Circulating Technology
The CMC provides circulating technology, which currently includes Apple iPads, Dell laptops, and one Macintosh iBook that may be checked out by patrons for up to four hours. Laptops and iPads can access the Pitt wireless system with a valid university username and password, and may be taken outside the library. Also available are headphones that may be checked out for up to four hours, and USB flash drives that may be checked out for up to twenty-four hours.
The CMC also offers a collection of audiovisual materials including videotapes, CDs, and DVDs which may be checked out for one week.
Helpdesk Services
A CMC helpdesk assistant is available to assist with using HSLS technology and services, including Microsoft Office and Adobe software, HSLS Computer Account renewals, remote access, and Pitt wireless. For assistance, stop in at the CMC, or call 412-648-9109.
~ Julia Jankovic