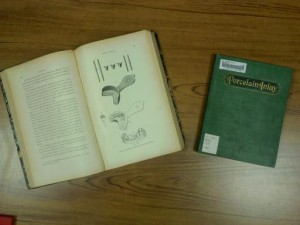 HSLS has a large number of rare books about dental health and oral surgery. The books described below, along with other rare gems, are currently on display in the Falk Library lobby and Rare Books Room.
Truman W. Brophy's influential volume Oral Surgery: A Treatise on the Diseases, Injuries and Malformations of the Mouth and Associated Parts was first published in 1915. The textbook contains a survey of contemporary knowledge about oral surgery, with 909 illustrations and 39 color plates. The author was a pioneer in dentistry who established the Chicago Dental College in 1883 and served on the faculty and as dean for 40 years. Brophy acquired an international reputation for performing oral cleft surgery.
Another uniquely illustrated book on display is a brief exposé by Hermann Prinz, Professor Materia Medica at the University of Pennsylvania and a member of the American Dental Association. The Story of the Dentifrice, published in 1938, explores the history of dentistry from its known beginnings in ancient Egypt.  Prinz's work includes fascinating details such as recipes for dental care in early Greco-Roman times.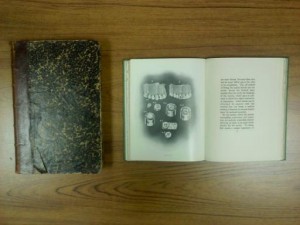 The wonderful and tiny 1843 and 1844 volumes of Dr. Hitchcock's Teeth Almanac are miniature almanacs. These are normally housed in the Rare Books Room, though at 2 x 3.5 inches, they may easily be overlooked among the surrounding books. Take note of our smallest treasures as well as the rest of the rare dental medicine books in the exhibit.
~ Sarah LaMoy and Gosia Fort