Do you use hsls.pitt.edu from your mobile device? If so, full-text PubMed is now available! Easily accessible from the HSLS mobile apps page, the PubMed link allows mobile users on the Pitt or UPMC wireless network to search:
MEDLINE, the freely accessible online database of biomedical journal citations and abstracts
PICO (Patient, Intervention, Comparison, Outcome), a method of searching the literature for evidence
askMEDLINE, a free-text, natural language search tool for MEDLINE
Journal Browser, search for journals by journal title or title abbreviation
Disease Associations, search case reports for disease associations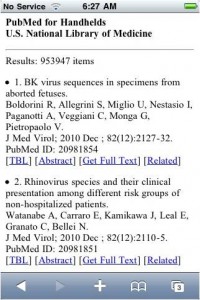 When scrolling though the results page, click the Pitt/UPMC full-text button (just like using HSLS's PubMed on your desktop) to access the full text of the article on your mobile device.
~ Fran Yarger