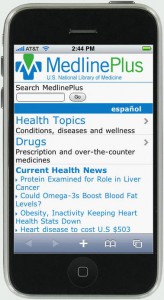 One of the most trusted Web sites for consumer health information, MedlinePlus®, is now available on your mobile device. The National Library of Medicine (NLM) developed Mobile MedlinePlus® in order to reach as large an audience as possible and to be usable on a variety of devices. Whether you are here in the United States or traveling abroad, reliable health information is available at your fingertips.
The content on Mobile MedlinePlus® is a subset of the content you will find on NLM's authoritative Web site, MedlinePlus®. Utilizing Vivisimo technology, the same technology that powers the HSLS Web site's search function, users can:
Search using keywords.
Browse or search over 800 health topic summaries.
Search for over-the-counter or prescription medication information.
Search for disease information with images in the medical encyclopedia.
Information on the mobile site is available in both English and Spanish.
Please take note that Mobile MedlinePlus® is an actual mobile Web site and not a mobile "app" (application). Blackberry users will find special instructions on the FAQ Mobile MedlinePlus® page.
Whether you are on the go or at home, high-quality health information is only a touch away.
Reference
Frant L. Badke W. Mobile MedlinePlus®: Health Information On-the-Go. NLM Technical Bulletin. 372(Jan-Feb 2010):e6.
~ Michelle Burda